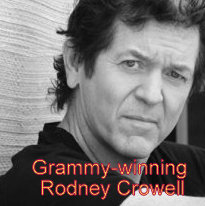 Santa Fe, New Mexico (PRWEB) September 11, 2012
The Santa Fe Reporter Arts Festival is featuring Grammy-winning Rodney Crowell and his band at the concert venue, Santa Fe Sol Stage and Grill, for an evening of musical magic from 7:30 p.m. to 10:30 p.m., Wednesday, Sept. 19, 2012. The festival is 12 days of arts in Santa Fe featuring amazing Grammy-winning artists like Mr. Crowell, bands that have 2.5 million plus hits on Youtube™ videos, theatrical plays, cinematic features, delicious food and much more. This event and the whole festival are featured on Santa Fe, New Mexico's premier on-line visitor guide SantaFe.com.
Rodney Crowell, a Grammy-winning songwriter, producer, and artist, brings poetry and earthy tautness to the soundtrack of people in the cracks. Born in Houston, his songwriting led him to Nashville, where Emmylou Harris heard the young writer's songs. Crowell soon became a potent alchemic property in the sound the queen of hippie country was conjuring. It was only a matter of time until Crowell struck out on his own, producing Rosanne Cash's seminal Seven Year Ache, which marked a new wave in country, and providing hits for Bob Seger, the Nitty Gritty Dirt Band, and Waylon Jennings, among others. Crowell's own albums established a benchmark of what was possible in the ground between Ray Price, Hank Williams and the Rolling Stones — Johnny Cash and Elvis. Diamonds & Dirt, considered the definitive album of the new traditionalist movement, was country's first album to yield five #1 hits. His acclaimed autobiographical album, The Houston Kid, marked a landmark for Crowell as he broke free from the constraints of writing songs for commercial radio, shifting his focus instead to crafting and recording music that reflected a new chapter in his life and career. Crowell's memoir, Chinaberry Sidewalks, was published by Knopf in 2011.
About SantaFeArts.com: The Santa Fe Reporter Arts Festival
Experience the arts in Santa Fe with twelve days of great music, local art, film, dance, live performances, theater, food, drink and more.

Presented by Heath Concerts, Meow Wolf, T-Cubed Productions, Team Everything, After Hours Alliance, MIX, Jade Presents, Southwest Roots Music, Joe Anderson Werks & Co-Sponsored by Hutton Broadcasting, SantaFe.com and SITE Santa Fe
Where: Santa Fe, New Mexico @ the Santa Fe Railyard, The Lensic, the Santa Fe Convention Center, Santa Fe Opera, Santa Fe Sol, Stats Nightclub, CinemaCafe, Santa Fe University of Art & Design, Rouge Cat and other local venues.
When: September 12 – 23, 2012
Interested Santa Fe Reporter Arts Festival attendees are encouraged to look for the official festival program inside the September 5 issue of the Santa Fe Reporter and at participating venues starting September 12.
About SantaFe.com:
SantaFe.com provides locals and visitors to Santa Fe alike the most current interactive platform for events, music, arts, business, dining and lifestyle. SantaFe.com is a division of Hutton Broadcasting, located at 2502 C. Camino Entrada, Santa Fe, NM 87507
Contact Information:
Scott Hutton
SantaFe.com / Hutton Broadcasting
http://www.santafe.com
(505) 471-1067 (Media inquiries only, please)