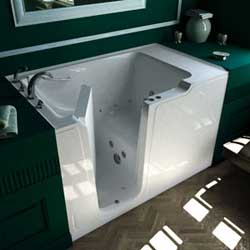 It is our hope that by offering free shipping for walk in tubs to the lower 48 states, we will make safer bathing options available to those who couldn't afford a step in bathtub otherwise.
Denver (PRWEB) September 11, 2012
Aging Safely Baths & More, a vendor and distributor of walk in bathtubs, is pleased to announce that it will provide free shipping throughout the United States to the lower 48. The free shipping offer is available for supply only purchases, when customers choose to have their own plumber install the walk in tub. Aging Safely guarantees that it offers the most competitively priced walk in bathtubs on the market. The company's free shipping policy is one more way that it is making walk in tubs budget-friendly for its customers.
Zach Wennstedt, Founder and CEO of Aging Safely, said, "For many customers, step in bathtubs and hydrotherapy tubs are a necessity to reduce inflammation or make it possible to bathe. Aging Safely cares about the health of its customers and wants to provide safe, affordable products that enhance comfort and increase mobility."
Aging Safely's free shipping complements its other customer service policies that make customers feel valued. Company sales representatives consistently tailor recommendations to each person's budget, needs and physical condition. Each customer has a personal consultant, so there is an ongoing relationship between the customer and independent bathing consultant. Whether customers need a walk in bathtub with an oversized door, a wheelchair accessible tub, a hydrotherapy tub or a tub with other specialty safety features, a specialist will provide solutions to meet their needs.
Aging Safely provides tubs from three of the top manufacturers, so customers can receive the best value and selection when they need to purchase a bathtub that does not require them to step over a hazardous ledge. Step in tubs vary in weight, but many of Aging Safely's tubs can weigh 120 pounds or more. Free shipping can add tremendous savings to the purchase price.
Many elderly customers are on fixed incomes and find it difficult to maintain their lifestyles with rising costs. Aging Safely is sensitive to the needs of its customers, and the company recognizes that price can prevent customers from purchasing a quality walk in tub and having a safe bathing experience. Aging Safely Baths & More encourages seniors and mobility restricted individuals to obtain a free quote. Now is the time to take advantage of Aging Safely's free shipping and low prices.
Aging Safely is excited to offer free shipping to help offset customers' budget concerns. Price should not impair a customer's ability to reduce inflammation, ease achiness, bathe or maintain a safe bathroom environment. Learn more about Aging Safely's IAPMO/ANSI quality certified hydrotherapy tubs and walk in tubs by contacting them directly.
Contact Information:
Zach Wennstedt
Aging Safely Baths & More LLC
P.O. Box 270696
Louisville, Colo. 80027
Toll Free 1-888-779-BATH(2284)
info@agingsafelybaths.com