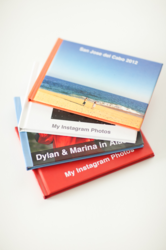 This means truly universal photo sharing.
Menlo Park, CA (PRWEB) September 11, 2012
It's no surprise that with the rise of camera phones, people are taking more photos than ever. According to one estimate, a staggering 300 to 400 billion photos will be taken just in 2012.* But what happens to all of these photos? While some are uploaded to sites like Instagram and Facebook, most remain locked up in the phone's camera roll.
"This is a case where technology is both a blessing and a curse," said Peter Weck, CEO of Silicon Valley company, Keepsy. "We're constantly taking photos of our daily lives – kids, families, vacations and events with our phones. In many ways, the camera roll has replaced the diary, but it's a complete mess."
Help is on the way for iPhone users, however. Weck's company aims to tackle this problem with the release of the new Keepsy application.
"There are a ton of photo sharing and editing apps out there already," said Weck. "So we wanted to make something that would help people get more out of the photos they've already taken, and also inspire them to get more out of their iPhone camera."
The Keepsy application begins by scanning the iPhone's camera roll. Using time and location data from the photos, the app organizes the photos into sets – essentially event-based photo albums. One can also create a photo set from scratch with a few taps from both the camera roll, as well as from Instagram.
Photo Sets can then be shared with anyone via email, text, or via social media sites like Facebook, Twitter and Path. "Instagram has really nailed the case for sharing a single photo," said co-founder, Blake Williams. "Keepsy lets you share up to 400 photos in a single set. Your friends don't even need the Keepsy app installed. They can view, comment, and even add their own photos to the set from any desktop or mobile web browser. This means truly universal photo sharing."
While the application has powerful sharing tools, its true sweet-spot is not up in the cloud, but rather down-to-earth – In other words, right in your hands. The app is the first of its kind to allow users to order printed photo books right from their iPhone. The application replicates much of the same simple interface for creating books offered on the Keepsy website. "We've taken away the pain of creating a photo book," said Williams. "I was actually able to create and order a photo book of my kids while I was waiting in a supermarket checkout line last night, and had it shipped directly to my mother-in-law overseas."
Keepsy's "Pocket Books" are 7" x 5" hardback photo albums, up to 80 pages in length, and come in 12 colors. The books start at $14.95 and international shipping is available to 23 countries. The app is free to download, and is available in the Apple App Store.
The app is available for download from Apple's App Store:
About Keepsy
Keepsy uses the power of social networks to create custom photo books and calendars. Keepsy was founded by Peter Weck, Blake Williams, and Kai Zhao. To learn more about Keepsy, please visit: http://www.keepsy.com
*Source: blog.1000memories.com