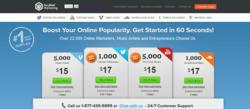 Ottawa, ON (PRWEB) September 11, 2012
Buy Real Marketing, the leading provider of web 2.0 business applications and social media marketing solutions, recommends Cinemagraph to be the newest online advertising trend for visual marketers on Tumblr and Pinterest. Offering Tumblr followers and soon Pinterest likes, the internet marketing company encourages fashion businesses and bloggers to apply cinemagraphs in their strategies to lure followers to become clients for both social websites.
Cinemagraphs are still photos that zoom in and focus on a particular area of the photo that is in repetitive motion. They are created in an animated GIF format giving life to photos and making it appear like a video rather than a plain photo. Buy Real Marketing supports fashion bloggers and marketers since they make up most of the returning clients that buy Twitter followers and YouTube views. Now that Tumblr followers and Pinterest likes are on the table amongst the social media products they are offering, the company seeks to help these clients maximize their talents on visual marketing by recommending cinemagraphs to animate their fashion creations and art.
"We at Buy Real Marketing do not stop at selling our services. We also endeavor to provide more value to our clients by giving them insights on what strategies are effective and updates on the latest marketing trends. This is our way of saying thank you for the patronage," explains JP Bisson, Managing Director for Buy Real Marketing.
Buy Real Marketing is the pioneer company that has launched several businesses' social following online and leveraged their marketing potential through social media. The company offers packages on Twitter followers, YouTube views, Vimeo views, SoundCloud plays, Tumblr followers and the upcoming Pinterest likes. These social media packages are guaranteed 100% money-back and are given at affordable prices. Customer service is available 24/7 to answer inquiries and concerns regarding the services.
To know more about the company's services, visit their website at http://www.buyrealmarketing.com or contact them at 1-877-435-5955.
About
Buy Real Marketing is owned by Clicking Labs, Inc. Clicking Labs is a well established internet marketing company founded in 2010 by Jean-Patrick Bisson, Diana Quartin and Jonathan Kennedy. The company specializes in driving search marketing and social media traffic, social web app development and conversion optimization. Each product or service specifically helps small/medium website owners increase online visibility and improve online sales.