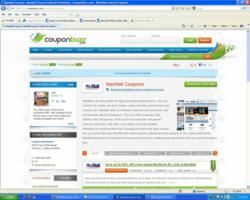 ...most of the Apple computers at MacMall.com do have some very tempting discounts attached to them for the duration of the sale.
Houston, TX (PRWEB) September 11, 2012
MacMall.com is grabbing the attention of online shoppers during the month of September by hosting a massive sale that features some Apple accessories for up to 100% off. For those math-challenged individuals, that's just another way of saying 'free.' Today CouponBuzz.com showcased a MacMall.com coupon link to all of the items featured in this impressive sale. The link is located in their section focused on highlighting the very best and brightest of any available MacMall.com coupons and special offers, and the September Specials sale at MacMall.com is certainly shiny. In addition to the draw of 100% off accessories, the featured coupon link also allows users to browse all of the Apple computers that are included in the sale, some of them more than $300 dollars off of standard retail price.
"As a coupon website, we are used to seeing offers for some fairly steep discounts," explained Justin Bowen, CEO of CouponBuzz.com. "But even I had to look twice at a web site that was offering 100% off. Obviously, that figure doesn't apply to the computers in MacMall.com's September Specials sale, but most of the Apple computers at MacMall.com do have some very tempting discounts attached to them for the duration of the sale. Throwing in some accessories for free is simply a very clever way that MacMall.com has chosen to sweeten up an already remarkable deal."
Apple brand computers which are part of the sale linked to by today's featured MacMall.com coupon include MacBook Pro, MacBook Air, and Mac Desktop lines of PCs. Varying screen sizes, processor capability, software packages, etc., change the final price of each computer, but the discounts range from $249 to $369 off. These are unusually steep numbers for the rarely discounted Apple brand computers, so supplies are expected to go quickly.
In addition to the computers, the special sale webpage that CouponBuzz.com's highlighted MacMall.com coupon directs shoppers to also boasts a wide variety of computer accessories. Some of them are 100% off, and most offer a meaningful discount from their standard retail price. Skull Candy earbuds for $19 dollars off, a PNY 32GB USB flash drive for $33 dollars off, and $20 dollar off an iPhone Otterbox are just some of the accessories featured in this one of a kind sale. Find the link to the sale in the MacMall.com section at CouponBuzz.com, located here http://couponbuzz.com/macmall-coupons.html.