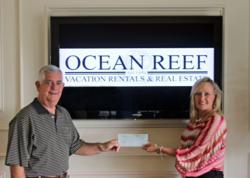 Destin, FL (PRWEB) September 11, 2012
As part of their 30 year anniversary celebration, Ocean Reef Resorts, a Destin, Florida vacation rentals and real estate firm, plans to mark the occasion as an "Official Accommodations Sponsor" at this year's Destin Seafood Festival. Ocean Reef Resorts CEO and President Tim Taylor has presented Kathy Eller, of the Destin Seafood Festival, a sponsorship check in support of the popular annual community event. The 34th annual Destin Seafood Festival is hosted by the Destin Charter Boat Association. This year's Destin Seafood Festival will be held during the weekend of October 5 – 7, 2012 along the Destin Harbor and the Destin Harbor Boardwalk. The festival is estimated to attract over 60,000 locals and tourists to the historic Destin Harbor to celebrate the fishing culture and Gulf coast lifestyle that makes Destin a unique and special Florida destination. Ocean Reef Resorts invites the local community and visitors to enjoy this year's Destin Seafood Festival.
About Ocean Reef Resorts
Founded in 1982, Ocean Reef Resorts features professionally managed vacation rentals and real estate operations from offices in Destin and Seacreast Beach, Florida. Staffed by a professional and friendly team who are knowledgeable in all areas of hospitality and real estate, Ocean Reef Resorts has earned a reputation for offering the finest properties along the Gulf Coast of Florida. Ocean Reef Resorts can be found on the web at http://www.OceanReefResorts.com and can be contacted by calling 800-782-8736.