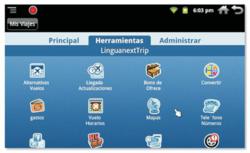 Businesses can globalize their apps by adding languages with extremely limited overhead, no additional coding or preparation and at any point in the app lifecycle.
San Jose, CA (PRWEB) September 11, 2012
LinguaNext™ Inc., the leader in enterprise software language management, today announced the general availability of its Linguify™ .Mobile language translation/localization solution for mobile applications. With Linguify.Mobile, enterprises can make their mobile apps global, opening up new markets, or even reaching domestic customers who prefer alternative languages, without any impact to their app development organizations.
Linguify.Mobile enables mobile applications to work in any language and any terminology without requiring any modifications to the code or data. Working completely on the client front-end, the solution translates all app screens and application data to the language of the user's choice in real-time based on manually pre-created high-quality translations. Thus, the underlying language and data of the system remains untouched and unmodified - only the screens at the end user's point are translated. App performance is unaffected due to the limited system resources required. Linguify.Mobile supports the latest mobile platforms like iOS and Android, among others.
"Hundreds of enterprises are publishing mobile applications, but very few app development teams are organizationally setup to leverage i18n and l10n features of the platforms and truly support global business needs," said Atul Tulshibagwale, CEO of LinguaNext. "Linguify.Mobile takes the traditional app localization approach and makes it obsolete. Businesses can globalize their apps by adding languages with extremely limited overhead, no additional coding or preparation and at any point in the app lifecycle. With Linguify.Mobile, language becomes an enabler of business without any impact to the development organization"
In just a few short years the mobile app industry has grown to $20 billion dollars, and with lower cost smartphones and tablets reaching emerging markets, this number is expected to continue its rapid climb. However, even with these clear trends, many independent app developers and corporations who engage their customers via mobile devices are not yet prepared to deliver their apps in multiple languages. Now LinguaNext is bringing its widely used, enterprise –grade technology to these developers in the mobile market so they can enable their customers to buy stocks, communicate, shop or check their bank balances, any mobile app function, in the language of their choice.
For more information on Linguify.Mobile visit http://www.linguanext.net/us/products/linguify-mobile.html
About LinguaNext
LinguaNext is the market leader in enterprise application language management and has transformed the way global corporations address multi-language and local language support for their information technology systems. With a roster of over 70 large enterprise customers including 25 of the Global 2000 and a deployed base of over 1,000,000 end users, LinguaNext is fast becoming the de facto standard. LinguaNext's innovative technology-based solutions enable any enterprise, mobile or cloud software system to work in any language, seamlessly and with zero changes to the underlying application code. Learn more at http://www.linguanext.net.
Contact:
LinguaNext, Inc.
Christopher Lanfear
chris(at)linguanext(dot)net
JHM Public Relations
Jessica Mularczyk
mularczykpr(at)verizon(dot)net
LinguaNext, Linguify, SPeeD Suite, LinguaPack, ReportTrans, Indify, Linguify.Reports, Linguify.Banks and Phrasier are trademarks of LinguaNext or its subsidiaries. Any other company, product or service names mentioned above are the registered or unregistered trademarks of their respective owner.