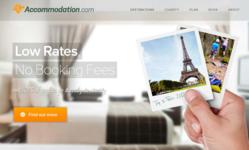 We are very excited about the purchase accommodation.com and developing a world class travel platform
Sydney, NSW, Australia (PRWEB) September 13, 2012
Australian company Pixel Capital Pty Ltd has added two travel oriented Domain names to its portfolio of web sites. The domains, http://www.accommodation.com and http://www.accommodation.co.uk, were bought for $528.000 USD.
Based on data from industry news portal DN Journal, Pixel Capital's purchase is rated in the top three highest global domain sales for 2012. Reference: http://dnjournal.com/ytd-sales-charts.htm
It is the second time in less than a year that Pixel Capital has broken into the top three of global domain name sales. Its purchase of creditcard.net for $138,000 USD was the second highest price for a .net domain name in 2011, beaten only by cars.net at $170,000 USD.
The accommodation.com site is gearing up for launch later this year. Pixel Capital founder, Roland B. Bleyer, said: "The site will have a sharing community focus. We are finalising arrangements with four charities across the globe to which we will donate 10% of our profits. We will also be rewarding travelers to share their stories and tips. Accommodation.com will encourage a strong social media interaction."
Pixel Capital heavily entered the premium domain name race with the purchase of creditcard.com.au for $160,000 AUD in 2009, still an Australian record. Bleyer said, "For me, the growth in domain name value far eclipses that of traditional, physical real estate. While we have seen the property market show low to negative returns in recent times, the domain market continues to deliver for investors that are willing to take up the charge. With minimal upkeep (domain renewal fees) and a market that is growing at such high rates I believe that domain names should be part of a balanced investment portfolio."