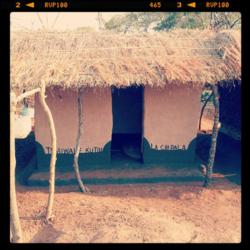 "I spend hours going to fetch water and I could be using that time for preparation for my studies. Even when I pick up my exercise books to read I don't have much concentration."
London, UK (PRWEB) September 11, 2012
* Follow @thebigdig to see how 17 year old Howard's life is being transformed *
This week charity WaterAid is using an Instagram photo-diary to show how clean, affordable and safe water and sanitation can make a difference to the lives of 134,000 people in Malawi.
Every day this week from Tuesday 11 September, two images a day will be posted about 17 year old Howard from rural Bokola, whose life will be transformed when a new borehole is dug in the village, bringing the community safe, clean water for the first time.
Howard currently has to collect water from the local river twice a day before and after school for his mother.
Howard says that this has been making him late for school, and gives him little time or energy for homework:
"I spend hours going to fetch water and I could be using that time for preparation for my studies," he says. "Even when I pick up my exercise books to read I don't have much concentration."
Together with poor sanitation, drinking dirty water – like the water Howard and his family collect from the river – causes preventable diseases that kill almost 2,000 children worldwide every day.
Thanks to WaterAid's Big Dig appeal, this is the last week Howard will have to spend hours every day fetching water. WaterAid has also been working to improve sanitation in Bokola, and Howard has been involved in helping his father build a latrine for the family home.
Two WaterAid project staff, Michael Kalane and Nathan Chiwoko, are using their smartphones to document the changes in Howard's life and that of the villagers, by using the Instagram account @thebigdig.
Currently in Malawi, 1 in 8 children die before their fifth birthday, while the average life expectancy is only 52 years.
As part of its Big Dig appeal, WaterAid is digging 34 new boreholes, 43 shallow wells, training 2,160 hygiene educators, as well as building 20,500 latrines in schools and homes.
All the money dontated by the UK public before 18 September will be matched pound for pound by the UK Government from the aid budget, helping WaterAid reach twice as many people.
To find out more about the Big Dig, go to http://www.thebigdig.org/about/
We also have a video with more details of the campaign at http://www.youtube.com/watch?v=1Qg4zYUxzMU&feature=relmfu
For further information, the Water Aid team at Rabbit - wateraid (at) therabbitagency (dot) com, tel +44 (0) 208 123 9541