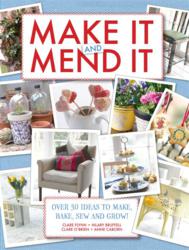 "Making and mending things helps people make more of life." Says the authors behind the popular website makeitandmendit.com and authors of Make It And Mend It. "Human beings were designed to make things."
United Kingdom (PRWEB UK) 13 September 2012
Clare Flynn, Clare O'Brien, Hilary Bruffell and Anne Caborn set up the Make It And Mend It website in 2009 with the aim of "growing a community keen to share ideas and inspiration and which empowers all of us to re-use more and throw away less. And have fun along the way…". With backgrounds in marketing, PR, film-making and journalism, they could only dream that 3 years later they would have over 24,000 followers worldwide and their first book publishing in October 2012.
Make It and Mend It, 30 ideas to make, bake, sew and grow features over 30 inspiring projects with beautifully photographed projects and step-by-step instructions, incorporating a range of crafts, DIY, cookery and gardening. It also includes practical and money-saving ideas for making the most of each season: such as recycled plant pot holders in spring, building your own barbecue for summer, making jams and chutneys in autumn and knitting draught excluders for winter. You can learn to create your own cards, gifts, decorations and foods to celebrate Christmas, Easter, Valentine's Day and other special occasions throughout the year.
Make It And Mend It, 30 ideas to make, bake, sew and grow! will be published on 26th October, priced £18.99 RRP
Clare Flynn, Clare O'Brien, Hilary Bruffell and Anne Caborn will be embarking on a nationwide publicity plan to promote their new book. For interview requests please contact Sandra Gilmore below:
For more information please contact Sandra Gilmore at F&W Media International Limited:
E: sandra.gilmore@fwmedia.com
T: 01626 323293
W: http://www.fwmedia.com