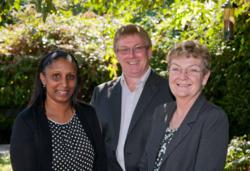 As Australia progresses towards an NDIS there are many things that we can learn from the reforms the UK has delivered. Senator McLucas
(PRWEB UK) 12 September 2012
The Australian Parliamentary Secretary for Disabilities and Carers visited homes of people with learning disabilities and autism in London on Friday September 7th, where she saw the real difference a personal approach to social care is making to people's quality of life.
Senator Jan McLucas, Australian Parliamentary Secretary for Disabilities and Carers, visited Joshua Close in Muswell Hill, London, which is operated by not-for-profit specialist care provider Dimensions. There she met people supported by Dimensions as well as the organisation's Chief Executive, Steve Scown.
Senator McLucas was particularly interested in gaining a better understanding of the UK's care and system to support people with learning disabilities, as Australia undergoes reform towards a National Disability Insurance Scheme (NDIS).
"It was great to talk to people here today about the UK's shift to a self-directed model of providing services to people with disabilities and giving them choice and control over what services they receive," said Senator McLucas.
"As Australia progresses towards an NDIS there are many things that we can learn from the reforms the UK has delivered."
Dimensions provides support services for autism and learning disabilities for 2,500 people England and Wales. The organisation is a champion of personalisation and is committed to placing the people it supports at the centre of the design and delivery of that support.
Senator McLucas was keen to see how personalisation is put into practice at Joshua Close, a supported living service for people with complex needs. The Senator met with staff and residents and heard how every resident has their own support plan which they have been involved in producing. This enables people to realise their full potential, participate in their community and pursue activities and interests which they enjoy. In turn, this supports their development.
Steve Scown, Chief Executive of Dimensions, said he was delighted to meet Senator McLucas and share the stories of the people we support. "The Senator's visit provided an important opportunity to share just how significantly people's lives have been transformed as many residents have moved from long stay hospitals and more institutionalised models of care to this person-centred approach.
"Personalisation is about supporting people to have real choice and control over their lives. Providing 'just enough support' to facilitate this is a marked contrast from more traditional approaches which can over-support someone and have a detrimental impact on their ability to determine how they live their life and to enjoy greater independence," said Steve.
Natalie Mason, service manager at Joshua Close, said the service allowed individuals to have their own home, their own space and their own core staff team whilst benefitting from the communal environment available to them.
"They have a great deal of choice and control over their support, such as having a say in who supports them, and we have clearly seen the positive impact our approach has in terms of people's confidence, development and overall wellbeing. The Dimensions team here feel a real sense of pride in the progress people we support have made since moving to Joshua Close and are delighted by the interest of the Senator in the work we do" said Natalie.
Senator McLucas also heard about the Dimensions Social Care Charter which was recently developed and launched in the UK Parliament by people it supports. The charter sets out five basic rights that all people with learning disabilities and autism should have in order to live the life they want: choice and control over their money; greater community inclusion; a say in their relationships; to be listened to; and more opportunities to be independent.
Steve Scown, added: "We are an organisation that is committed to supporting people to have a voice with decision-makers involved in social care policy and practice. With major reform to social care being planned by the UK government, it is vital that the needs of people with learning disabilities and autism are not marginalised and that we do not see a return to ineffective models of care in attempts to save money."
"We want as many people as possible to pledge their support for our charter and hope the reforms will enable everyone receiving support to benefit from a personalised support. We know that in the long-term, this approach not only saves money but improves people's lives."
"I welcome the Senator's interest in personalisation and actually meeting and talking to people we support to hear about their lives directly. I hope her experiences today will contribute to her excellent efforts to make a positive difference for people with learning disabilities in Australia."