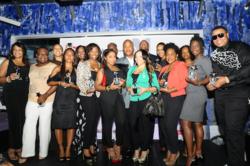 rolling out is excited to partner with CVS to recognize these trendsetting men and women who are titans of industry in their own respects with the inaugural Mirror Mirror awards
Atlanta, GA (PRWEB) September 12, 2012
On Monday, September 10th rolling out Magazine, the premiere urban weekly covering music, politics and culture, in a partnership with CVS/Pharmacy Beauty Club, premiered the 2012 Mirror Mirror Beauty Awards in Atlanta, GA. The exclusive VIP reception and award ceremony honored Atlanta's trendsetters and leaders in the beauty industry, as well as several pop culture beauty and fashion icons.
The 2012 Mirror Mirror honorees included Grammy -award winning singer/actress/spokesperson Chilli, Supermodel Cynthia Bailey (BRAVO/RHOA), Grammy-award winning songwriter Kandi Buruss (BRAVO/RHOA), hit songwriter Tiny (VH1/The Family Hustle), NY Times Best Selling author and TV personality Toya Wright, President/CEO of Bronners Bros., Bernard Bronner, fashion & entertainment blogger Tami Reed and a host of other beauty trendsetters and leaders. An intimate crowd of Atlanta elite key influencers, socialites and tastemakers applauded the honorees including hip hop artist T.I., music industry veteran Shanti Das and many more.
Atlanta's newest hotspot, The Indigo Bar, hosted the ceremony; complete with an exquisite view of the city as a backdrop. DJ Tracy Steele (HOT 107.9) provided the soundtrack for the evening, which consisted of great fashion, exotic food and beautiful people. "rolling out is excited to partner with CVS to recognize these trendsetting men and women who are titans of industry in their own respects with the inaugural Mirror Mirror awards," said Munson Steed, CEO, Steed Media Group. "These honorees are setting the pace for what's hot in fashion and beauty; the awards were designed to highlight their huge impact on today's urban style."
Atlanta was the first leg of a 13-city national rollout for the Mirror Mirror awards in 2013. rolling out and CVS have selected DC as the next city to feature the prestigious awards. "The Mirror Mirror awards program is an important vehicle in featuring skill sets that are critical to success in the beauty industry; and highlights many of the enthusiasts who assist in refining our culture with their skills and knowledge," Steed explains. "CVS/pharmacy looks forward to working with rolling out to solidify the Mirror Mirror awards as a premiere annual event nationwide, giving guests an indulgent experience as well as an elegant showcase and awards ceremony," says Dawn Marie Gray, senior marketing manager, multicultural, CVS/pharmacy.
For more information on the upcoming Mirror Mirror awards visit: http://www.rollingout.com
Steed Media Group is a multimedia company comprised of several media brands including RollingOut urban style weekly, Hip Hop On Demand, Club Hardhead, Talking Pretty and several others. Headquartered in Atlanta, Georgia with several offices across the country in key African American media markets, Steed Media Group produces and distributes 19 newspapers, and develops content for custom magazines, television programming, internet properties, and branded publications such as Producer 10. Steed Media Group also creates signature events and marketing initiatives.
Media link for additional photos: https://picasaweb.google.com/101758813205249825646/RollingOutAndCVSPharmacyMirrorMirrorBeautyAwards?authuser=0&feat=directlink
For press inquiries or interviews with Munson Steed or Dawn Marie Gray please contact Christal Jordan, Enchanted PR at press(at)enchantedpr(dot)net or Angela Watts, AW Media Group at press(at)awmediagroup(dot)com