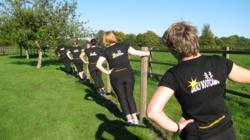 "Regular exercise can provide a welcome boost to your immune system ahead of the traditional colds and flu season."
Berkshire (PRWEB UK) 12 September 2012
As the temperature drops and nights draw in seasonal colds and flu can make many people feel miserable. Adopting a regular exercise programme and staying fit can be an excellent way to build stammer, boost immune systems, speed recovery, and stave off winter viruses and flu.
Julie Brealy, founder of Brealy Bootcamps, announced the new programme for 2012/2013. She said; "It is common knowledge that the onset of shorter days and cooler temperatures heralds the start of the flu season. Exercise is a great way to improve and strengthen your immune system, but don't leave it to the last minute.
"Exercise should be fun and enjoyable as well as delivering results. That's why we have introduced a fresh schedule of weight loss and exercise bootcamps so that people of all abilities and ages can take part and keep-fit.
"Brealy Bootcamps stand out from the crowd as we not only allow clients to choose the duration of the stay – from a single day to a 10 day retreat – but also choose the theme of the camp according to their interests and priorities."
Brealy Bootcamps dates for autumn and winter are:

28th Sept-1st Oct 2012 Walk & Tone Weekend
28th Sept – 1st Oct 2012 Dance & Tone Weekend
19th – 26th Oct 2012 Weight Loss Retreat, Berkshire
19th – 26th Oct 2012 Fitness Bootcamp, Berkshire
28th Oct 2012 Mixed Bootcamp Day, Berkshire
4th Nov 2012 Mixed Bootcamp Day, Berkshire
17th -24th Nov 2012 7 Day Weight Loss Retreat, Berkshire
3rd – 7th Dec 2012 Burn Out Bootcamp, Somerset
22nd Feb – 1st March 2012 Weight Loss Retreat, Berkshire
8th-11th March 2013 Dance & Tone Weekend, Berkshire.
Non-military fitness and weight loss professionals will guide clients through a range of motivating sessions focussed on exercise, nutrition and behaviour. Brealy Bootcamps offer something a little different from the regular bootcamps and participants can choose from a range of themes including; Weight Loss Retreat, Mixed Bootcamp Day, Walk and Tone Weekend, Dance and Tone Weekend, Detox Retreat as well as bespoke programmes.
Founded by Julie Brealy, Brealy Bootcamps is one of the UK's leading weight loss and fitness retreat providers. For more details, times and prices visit http://www.brealybootcamps.co.uk .