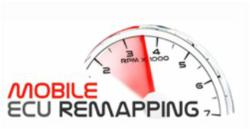 (PRWEB UK) 12 September 2012
These days, it seems as if almost everyone is looking to get just a little more for their vehicles, and remapping has long been a way many found to enhance performance. Those looking for more, though, were often left with the lingering question of proof. Were they actually getting more after the remapping, or was the placebo effect just playing mind tricks? Mobile ECU remapping has finally solved that problem with the introduction of a tool that offers conclusive proof customers are actually getting a serious performance boost after the remapping process.
The "Dyno" Mite Effect
Early next month, Mobile ECU Remapping will be adding a 4 wheel drive Dyno to their services for vans, cars, or bikes. Before the remapping ever begins, customers will be able to see their current BHP and torque figures. After the remapping is complete, they'll see the enhanced figures. It's a systematic approach to remapping that helps to not only thoroughly test the vehicle at the outset, but also demonstrate the engine advancements that truly come with the right remapping job. In fact, it's the only way to solidly prove the high performance change you see with good remapping services, and few other remapping companies can offer it.
The Reality of Remapping
Vehicle manufacturers routinely put a variety of different restrictions on almost every vehicle that comes off the line. Most try to take into account the possibility that their products won't be serviced as regularly as they should or the chance that substandard fuels will be added. ECU remapping, though, can help to unblock many of those restrictions, ensuring the real power of the vehicle can come through every single time you turn it on. With absolutely no negative effects on either the life of the engine or the exhaust emissions, a remap will mean quite an improvement on vehicle performance.
The Mobile ECU Remapping Difference
While there are lots of adverts for remaps, Mobile ECU Remapping offers more. Because they custom remap every single vehicle, the results are far greater, up to a 30% increase in BHP, torque, and MPG in many cases. Turning to Mobile ECU Remapping means the smooth power you've been looking for along with the proof you need to truly understand what's changed about your vehicle.
Mobile ECU Remapping also plans to roll out a mobile Dyno service for tractors in the coming months that can work directly with agricultural professionals at their locations.
Mobile ECU Remapping is the leader in performance enhancement for vehicles across the UK. With locations throughout the UK as well as a lifetime warranty, they're the one place to turn for maximum power and great customer service in one package.