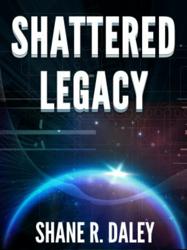 (PRWEB) September 17, 2012
In his new science fiction thriller "Shattered Legacy", Shane R. Daley tells the story of conspiracy and espionage in the private space industry.
Templar Enterprises has built the Naiad, the world's most advanced spacecraft. Poised for its maiden flight, the revolutionary single-stage orbiter promises to make space travel safe and affordable. After FBI agents raid Templar's offices, company executive Samson Tyler uncovers a criminal scheme within his organization.
Merrick, a no-nonsense industrial spy, has used Templar to acquire and distribute classified technology. Having made her fortune, she plans to retire from the espionage business. Now the government investigation threatens to expose her, drawing her back into the fold to keep her secrets buried - at any cost.
As Tyler struggles to prevent a company shutdown, he discovers a corruption that strikes at the heart of the company. Tyler also zeros in on Merrick, only she manages to wrap him into her own twisted agenda. When a malfunction threatens to destroy the Naiad in space, events of the past and present collide – forcing Tyler to choose between his personal ambitions or exposing a deception that will change the fledgling space industry forever.
"Shattered Legacy" weaves fictional elements and current events in a tale of corporate intrigue. As several real-world companies are making the first steps in commercial space travel, the story explores near-future technology and the potentials and pitfalls of private space exploration.
The e-book version is available exclusively through the Kindle Direct Publishing (KDP) program at Amazon.com for the next 90 days. KDP books are available for purchase on Kindle devices and Kindle apps for iPad, iPhone, iPod touch, PC, Mac, Blackberry, and Android-based devices.
You can download a sample chapter or order at Amazon.com.
For more information, visit http://www.shanedaley.com