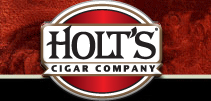 Philadelphia, PA (PRWEB) September 12, 2012
Holt's Cigar Company based out of Philadelphia is now offering their "Deep Six Closeouts." Any customer looking for incredible steals and deals should look no further than these deals, as a person will be able to browse from a selection of incredibly discounted brands and save as much as 78% off MSRP. There are limited qualities, so this offer is only available while their supplies last.
One of the cigars currently available for their "Deep Six Closeouts," is their Babalu. Babalu is a brand new cigar handmade in the Dominican Republic. The cigar itself has a gorgeous gingerbread colored Ecuadorian wrapper that has married a rich, medium-bodied blend of Dominican and Nicaraguan long-fillers. The flavors are proportionate and creamy with a smooth, toasty finish. Babalu comes in five traditional sizes including a chunky, cedar-wrapped bombshell by the name of Tropicana. Another cigar currently available by this Cigar Company in Montgomery County, PA is the Bauza. The Bauza is a medium-bodied cigar manufactured in the Fuente factory. The wrapper is Ecuadorian, and the binder and filler are Dominican.
In regards to their cigars and deals, a recent customer of Holt's Cigar Company was noted on Yelp as saying, "I don't smoke cigars. I know nothing about cigars. I came here to buy a Father's day gift and made it clear upon walking in that I was a cigar idiot. They were very friendly and pointed me in a few directions once I gave them a price range. I ended up with a purchase that was a good deal (I looked online afterward to compare prices). They offered to ship for free."
When it comes to finding the top cigar store amongst all of the cigar stores in Philadelphia, Holt's Cigar Company is number one. Holt's Cigar Company's origins date back over one hundred years since 1898. Starting first as a tobacco shop in center city Philadelphia, Holt's has also developed a very successful mail order and wholesale division in recent years. To view what their latest "Deep Six Closeouts" are, or to order cigars, visit their website at http://www.holts.com.