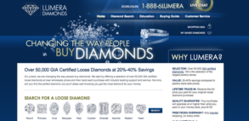 St Louis, MO (PRWEB) September 14, 2012
Lumera Diamonds, a leading provider of GIA certified loose diamonds, today launched the Jewelry Insurance Guide for owners and purchasers of fine jewelry and diamonds at http://www.lumeradiamonds.com/buying-diamonds/jewelry-insurance.
Lumera's Jewelry Insurance Guide offers advice on what to look for in a jewelry insurance policy, whether provided through existing home owner's or renter's insurance, or purchased separately from a company that specializes in fine jewelry insurance. The Guide also provides access to free rate quotes through a leading fine jewelry insurer. This instant quote allows a customer to understand the cost of insuring a piece of jewelry before making a purchase, as well as compare rates with other insurance companies, such as their existing provider.
"Lumera sells loose diamonds at prices from several hundred to over one hundred thousand dollars. A customer's primary concern as they initiate such a significant transaction is safety, not only during the ordering and payment process, but after they receive the diamond as well. The Jewelry Insurance Guide is one way we can address those concerns, by offering valuable information on what to look for in the myriad insurance options available. We decided to offer the guide to every visitor, whether a customer or not, since it is also helpful to those who have already made their purchase, whether last month or a decade ago." explained Joe Brehob, President of Lumera Diamonds.
The Jewelry Insurance Guide is the newest addition to the Lumera Buying Guide, a comprehensive collection of information, advice, and cautions related to the purchase of GIA diamonds and fine jewelry. Other areas of the Buying Guide instruct customers on how to approach the purchase of an engagement ring, choosing a diamond, avoiding common diamond buying mistakes, and understanding the purpose and content of a jewelry appraisal. The Buying Guide is a key component of Lumera's stated mission to promote education and transparency in the diamond business.
In addition to information, Lumera also allows customers to buy loose diamonds online, using a customized interface that allows each customer to specify the unique criteria for their diamond. In addition, diamond consultants are available via phone, chat, and email to answer questions, make recommendations, and assist the customer in any way they can.
"We are grateful for our customers patronage, and exited to give them every type of support we can to assist them in what is often the largest online purchase they will every make. Our hope is that the Jewelry Insurance Guide will be an important part of that effort," said Mr. Brehob.
ABOUT LUMERA DIAMONDS:
Lumera Diamonds sells GIA certified loose diamonds through http://www.lumeradiamonds.com. Every diamond is backed by an exclusive Quality Guarantee, Lifetime Trade-in privileges, 30-day returns, and a written appraisal. Lumera was founded with the mission of promoting both transparency in the diamond business and education for the consumer; eliminating the mystery and anxiety that often accompanies the purchase of diamonds and jewelry.