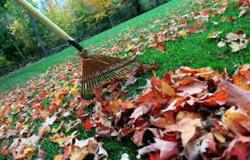 According to The Consumer Product Safety Commission, 617,000 people were injured in 2008 doing common yard work chores.
Rhinebeck, NY (PRWEB) September 11, 2012
Now that the kids are back in school, it won't be long before the leaves turn gold and red, the weather cools down…And homeowners' thoughts turn to outdoor cleanup. It's time haul out rakes, leaf blowers, weed whackers, ladders, chain saws, and mowers—and open ourselves up to the possibility of pain and injury.
Typical fall cleanup tasks such as raking, pruning, and cleaning gutters can cause muscle strain, back pain, repetitive motion injuries, tendonitis, and carpal tunnel syndrome, and other injuries and accidents. According to The Consumer Product Safety Commission, 617,000 people were injured in 2008 doing common yard work chores, and the Centers for Disease Control and prevention reports that approximately 42 million people seek emergency room treatment for related injuries each year.
Lou Paradise, pain management expert and president and chief of research at Topical BioMedics, offers the following safety tips to add to your fall cleanup checklist.
--Warm up, cool down, and take breaks. Walk and stretch before you exert yourself. This helps prevent your shoulders, neck, and back from being strained. When you're finished with your chores, gentle stretches will help relieve muscle tension. Take periodic breaks to stretch your muscles and drink water to stay hydrated
--Dress appropriately. Lightweight, natural fibers provide warmth without trapping sweat, and long-sleeved shirts and long pants protect skin from scratches, bugs, and sun. Wear sturdy shoes or boots with slip-resistant solves to prevent injuries and minimize the risk of falling.
--Choose proper accessories. Wear safety glasses to keep eyes protected from flying dirt and debris; earmuffs, a hard hat, and steel mesh face visor when using a chainsaw; gloves and a facemask when handling chemicals (such as lawn fertilizer and insect poison). Don't forget to keep toxins away from children and pets.
--Use a rake that is comfortable for your height and strength, and look for ergonomic handles. If the rake handle isn't padded, wear gloves to prevent blisters.
--Use proper posture and movements. There's a tendency to favor our dominant arm when doing yard work, which is a habit to avoid. When raking, make sure to switch arms often so you'll work the muscles on both sides of your body equally and prevent overworking certain muscle groups. Never throw leaves over your shoulder or to the side, which puts undue stress on your back. When picking up leaves, bend at the knees, not waist. Vary your movements and alternate your leg and arm position.
--Do not overfill leaf bags, and remember wet leaves are especially heavy. To avoid injury, you should be able to handle bags comfortably, without straining.
--Take safety precautions when climbing a ladder. According to the Consumer Product Safety Commission, in 2008 approximately 539,000 people when to the doctor, the ER, or the hospital because of a ladder injury. Make sure your ladder is in good repair with no loose screws, hinges or rungs. Place it on a firm, level surface, angled approximately 75 degrees from the ground and check to be sure it's fully open and locked. When climbing, wear shoes with nonslip soles and ask a family member/friend hold the ladder in place. Always face toward it when climbing and descending, and never sit or stand above the level indicated by the manufacturer.
--To help prevent/reduce pain and injury, apply safe, natural Topricin Pain Relief and Healing Cream before beginning yard work and immediately after. Topricin may be reapplied at bedtime, in the morning, and several times during the day, as needed.
HEALING THERAPY TIPS:
Hot and cold therapy with Topricin will shorten the duration of the recovery so pains/injuries can heal faster. Fueled by nature not chemicals, Topricin is a blend of eleven natural biomedicines that naturally help the joints detoxify by stimulating the body's desire to drain toxins and excess fluids from the muscle tissue, which restores blood flow back to normal and helps heal the damage that is causing the pain.
-ICE is the first course of action, for the first 24 – 48 hours to help with inflammation. Ice therapy has an effect when the ice is REMOVED. Ice stops the blood flow, when removed it releases fluids and toxins, stimulates lymphatic and toxin draining and more blood flow. Basic procedures for ice therapy: 10 minutes on; 5 off; 10 on, 5 off.
-MOIST HEAT and ICE/HEAT:
HEAT: 48 – 72 hours after injury try using heat on the injured area. You'll know it's okay to continue if you don't feel worse afterwards. Heat draws more blood to the area and helps removes toxins.
-ALTERNATING HOT AND COLD: Cold and heat can be very powerful when used together. The protocol takes about 45 minutes. Start with HEAT for 10 minutes; followed by 5 minute break. Then COLD for 10 minutes, followed by 5-minute break, then HEAT again for 10 minutes. Follow with application of Topricin.
For severe pain and swelling, seek immediate medical attention, applying Topricin as a first line first aid treatment.
To learn more about Topricin Pain Relief and Healing Cream, go to http://www.topricin.com.
About Topical BioMedics, Inc.
Headquartered in Rhinebeck, NY, Topical BioMedics is the research and development leader in topical regulated natural biomedicines for pain relief. The company's flagship product, Topricin® Pain Relief and Healing Cream, was introduced in 1994 and is now a leading natural therapeutic brand. A combination homeopathic formula, Topricin has been awarded a patent for the treatment of pain associated with fibromyalgia and neuropathy.
All Topricin products are made in the U.S.A., formulated with approved medicines as found in the HPUS (Homeopathic Pharmacopoeia of the United States) and are in compliance with federal rules for homeopathic over-the-counter medicines. Safe for diabetics and pregnant and nursing women, the products contain: no parabens, petroleum or harsh chemicals, are odorless, greaseless and non-irritating, and produce no known side effects. For more information visit http://www.topricin.com.
# # #
Sources:
Lou Paradise, Topical BioMedics, Inc.
American Association of Orthopaedic Surgeons (http://www.aaos.org)
fitsugar.com
Longmont United Hospital
Activerain.com
This Old House
NaturalWellBeing.com
Everydaychiropractic.com