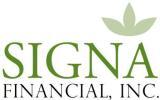 "Many small business owners are confused regarding the definition of a small business according to the SBA," says Mark Huddleston, Managing Director of Signal Financial.
San Francisco, CA (PRWEB) September 13, 2012
Many small businesses continue to feel the effects of a sluggish economy today and need financing. Signa Financial, nationwide SBA lending experts, are among firms that help interpret the Small Business Administration's (SBA) criteria for defining a small business. SBA loans are a continuing source of capital for small businesses across the nation, however, many small business owners are confused regarding the definition of a small business in the eyes of the SBA. Firms like Signa attempt to remove this confusion while advising clients on the best way to apply for SBA funding.
In general, the SBA defines a small business as follows:
500 employees for most manufacturing and mining industries; and
$7 million in average annual receipts for most non-manufacturing industries.
Additional requirements are that the business be privately held, exists to make a profit, and does not dominate its field or sector.
When using a critera based on employees, the average number of employees over the past 12 months is used. When based on annual receipts, it is the average annual sales volume for the past 3 years.
That being said, there are also many exceptions to this rule. Manufacturing concerns may be permitted as many as 1500 employees and some non-manufacturing industries may have annual receipts up to $35.5 million and still qualify for an SBA loan. Business owners should also bear in mind that the SBA definitions can vary from year to year based on current policy.
Here are some exceptions based on various industries:
** Manufacturing: Depending on the product being manufactured, the maximum number of employees may be as high as 1500. 25% of all small manufacturing businesses are permitted to have over 500 employees.
** Retailing: Annual receipt averages can range from $5 million to $21 million, depending on the product(s) being sold.
** Agriculture: Annual receipts can range from $0.5 million to $9 million depending on the agricultural product.
As can be seen, industry definitions vary from the general SBA guidelines to define a small business. Variances are similar for other industries such as construction, wholesaling, and services. Needless to say, these exceptions, which can affect over 35% of businesses, cause confusion to small business owners.
Navigating the rules and guidelines can be made easier and more efficient with an SBA lending expert, who can help the small business owner through the entire SBA loan process.
Terry Robinson, President of Signa Financial, says, "Our SBA lending experts are a great asset for small business clients who need an SBA loan. They understand what will work and what won't, and can help small business owners in a meaningful way. Our goal at Signa is to rebuild the American economy, one business and one loan at a time."
About Signa Financial
Signa Financial provides expert SBA lending guidance to clients throughout the United States. Based in San Francisco California, the management and SBA lending experts have over 100 years of combined experience in banking and SBA lending. Signa is well positioned to provide guidance to prospective SBA borrowers.