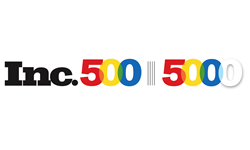 Arlington, VA (PRWEB) September 19, 2012
Inc. magazine ranked Buchanan & Edwards (BE) No. 2242 overall on the sixth annual Inc. 500|5000 List of the fastest-growing private companies in America. In its third year on the list, an honor that few enterprises can claim, BE moved up over 500 spots from its previous position in 2011. BE ranked #183 of companies in the DC metropolitan area and #315 in the IT Services industry,
"I believe that if you take care of your people, they'll take care of your customers, and the business will take care of itself," says Brian Karlisch, Buchanan & Edwards CEO. "We invest in our employees to ensure they are happy and motivated by their work and have the opportunities to advance their careers. We have our employees to thank for BE's continued success."
The list represents the most comprehensive look at the most important segment of the economy—America's independent entrepreneurs. The ranking of privately held, US-based companies focuses on three-year revenue growth. The 2012 Inc. 500|5000 companies maintained a median growth rate of 97%, report having created 400,000 jobs, and reached an aggregate revenue of $299 billion during a tough three-year economic period—2008 to 2011.
"Now, more than ever, we depend on Inc. 500|5000 companies to spur innovation, provide jobs, and drive the economy forward. Growth companies, not large corporations, are where the action is," says Inc. Editor Eric Schurenberg. For a complete listing of Inc. 500|5000 results visit http://www.inc.com/5000.
###
About Buchanan & Edwards:
Buchanan & Edwards (BE) is an information technology and professional services consulting firm, which provides clients with high-end, advanced technology solutions and organizational management services to ensure mission success anytime, anywhere.
Serving the federal sector since 1998, we base our solutions on an in-depth understanding of our clients, their mission, and the unique challenges they face. BE is a Microsoft Gold Independent Software Vendor (ISV) Partner, the winner of the 2011 Small Business of the Year Award for the US Department of State and a three-time Inc 500│5000 awardee.
BE employs a disciplined management approach that has been independently appraised as compliant with CMMI Level II processes and ISO 9001:2008 standards. For additional information, please visit our website at http://www.Buchanan-Edwards.com.
About the 2012 Inc. 500|5000:
The 2012 Inc. 500|5000 is ranked according to percentage revenue growth when comparing 2008 to 2011. To qualify, companies must have been founded and generating revenue by March 31, 2008. They had to be U.S.-based, privately held, for profit, and independent—not subsidiaries or divisions of other companies—as of December 31, 2011. (Since then, a number of companies on the list have gone public or been acquired.) The minimum revenue required for 2008 is $100,000; the minimum for 2011 is $2 million. As always, Inc. reserves the right to decline applicants for subjective reasons. Companies on the Inc. 500 are featured in Inc.'s September issue. They represent the top tier of the Inc. 5000, which can be found at http://www.inc.com/500.
About Inc.:
Founded in 1979 and acquired in 2005 by Mansueto Ventures, Inc. is the only major brand dedicated exclusively to owners and managers of growing private companies, with the aim to deliver real solutions for today's innovative company builders. Total monthly audience reach for the brand has grown significantly from 2,000,000 in 2010 to over 6,000,000 today. For more information, visit http://www.inc.com.