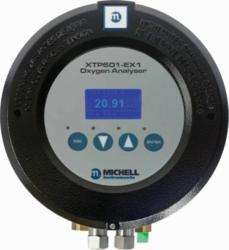 Rowley, MA (PRWEB) September 11, 2012
Michell Instruments has attained CCSAUS certification for its XTP601 Oxygen Analyzer, making it approved for use in hazardous areas in the US and Canada. The instrument previously carried ATEX and IEC Ex certification. The addition of CCSAUS broadens its global coverage.
The XTP601 uses thermo-paramagnetic measurement technology to make accurate and stable measurements of oxygen in background gases such as hydrogen, nitrogen, carbon dioxide and air as well as hydrocarbon gases. It is capable of measuring oxygen ranges from 0-1% up to 0-25%. Typical hazardous area applications include monitoring of inert or blanketing gases in refining, chemical and pharmaceutical industries.
The analyzer, which is housed in a tough, explosion-proof housing, is available in three versions: a blind transmitter, a unit with status LEDS or a full-display unit. The full display version has a touch-screen interface which allows through-the-glass interaction eliminating the need to remove the analyzer cover to actuate its functions.
All versions are supplied with two 4-20mA outputs, two concentration alarms, Modbus RTU over RS485 protocol and application software as standard.

Michell Instruments is an international leader in the field of moisture, humidity and oxygen measurement solutions. With over 30 years experience, Michell designs and manufactures a wide range of transmitters, instruments and systems capable of measuring trace moisture, oxygen and hydrocarbon dew point in a vast range of applications and industries including compressed air, power generation, process, oil and gas, petrochemical, pharmaceutical and many more.