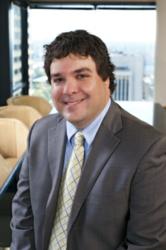 Nashville, TN (PRWEB) September 11, 2012
Sean C. Kirk has joined the law firm of Bone McAllester Norton PLLC as a commercial litigation attorney, Chairman Charles W. Bone announced today.
Mr. Kirk represents clients in a variety of matters including secured transactions, collections, creditors' rights, and all facets of bankruptcy proceedings and commercial litigation. His broad range of clients includes institutional lenders and financiers, real estate and equipment lessors, and electronic payment processing companies involved in various industries.
In addition, Mr. Kirk also manages multi-jurisdictional litigation on behalf of his clients across the United States. A significant portion of his practice involves commercial loan workouts and representation of secured lenders in commercial foreclosure and deficiency actions.
Mr. Kirk is active in the community as a volunteer with CASA Nashville and Big Brothers Big Sisters of Middle Tennessee. He is an alumnus of the Young Leaders Council of Nashville, and a former member of the board of directors for both Monroe Harding and Book'Em. He and his wife, Candice Reed, reside in Nashville.
ABOUT BONE MCALLESTER NORTON PLLC
Bone McAllester Norton PLLC has 33 lawyers with offices in Nashville and in Sumner County, Tennessee. Our attorneys focus on 16 distinct practice areas, providing a wide range of legal services. We offer representation for commercial lending, commercial real estate, mergers and acquisitions, litigation, intellectual property, entertainment and environmental matters, along with a full breadth of legal services ordinarily required by businesses and entrepreneurial individuals. For more information, visit http://www.bonelaw.com
Contact: Elizabeth Fielding 615.321.3110