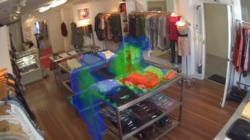 We're delivering never-before available, real-time data about the impact of your marketing programs and using a resource you already have—security cameras—to do it
San Francisco, CA (PRWEB) September 11, 2012
Prism Skylabs, the company helping retail organizations extract invaluable intelligence about activity within their physical stores, today announced the integration of its revolutionary cloud service with the Windows, Mac and Linux operating systems. The move empowers retail businesses to instantly transform their security cameras into tools that—from a laptop, phone or tablet—provide images of live, in-store video feeds and powerful analytics, driving revenue and increasing understanding of their customers.
Today's news means that with a simple download, Prism Skylabs automatically detects and adds value to existing video infrastructure, providing marketers rich data they can act on to improve store efficiency.
"Historically, setting marketing and merchandising strategy for a retail organization with many locations has been incredibly difficult, in particular because so few metrics are available to help guide decisions," said Steve Russell, CEO of Prism Skylabs. "Our mission is to change that. We're delivering never-before available, real-time data about the impact of your marketing programs and using a resource you already have—security cameras—to do it."
There are many invaluable ways marketers can extract intelligence from Prism Skylabs service, including:

Remote, real-time business visibility that provides a global view into store performance and
illustrates key areas for improvement.

Customer and product-lift heatmaps that highlight high-traffic areas inside stores.
Dynamic summaries of customer activity, behavior and movement that provide never-before-
available insight into what is working, and what is not—in real-time.

Unlimited storage of data and imagery that lets marketers refer back to historical
data to demonstrate the impact of A/B testing as well as other efforts.
Russell added, "All of this data is available to Internet-based businesses, but the vast majority of commerce takes place in brick-and-mortar stores. We want to empower marketers at physical stores with the same tools that their Web-based counterparts have and unlock a once-hidden world of customer insight."
Availability: Prism Skylabs is currently available through a closed beta. To date, retailers of all sizes, from boutique clothing stores to regional chains to international Fortune 500 organizations have piloted the service with great success. For details about how to experience Prism Skylabs at your organization, please visit: http://www.prismskylabs.com.
Technical details: Prism Skylabs can be installed on Linux, Windows or Mac, or, function as a plug-in to 3VR or Milestone Systems video management systems.
About Prism Skylabs
Prism Skylabs' insightful video service helps businesses connect with their customers. Its cloud-based software leverages existing camera networks to allow business owners to view, understand and share their real-world places online to create new revenue streams and new opportunities to serve and engage with consumers. The company is privately held and is based in San Francisco, CA.
Press Contact:
David Klein
MarCom Manager
Tel. +1 (415) 889-0612