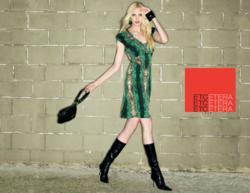 "There is a tangible new vitality, new energy, permeating every corner of our business., said Mary Alice Heape, President of Etcetera.
New York, NY (PRWEB) September 13, 2012
The Etcetera Fall Collection launched under the new ownership of equal partners, Tom James Company and Royal Spirit, Ltd. of Hong Kong. In April of this year, Carlisle Etcetera LLC was formed to take the luxury lifestyle ladies clothing brands, Carlisle/Per Se and Etcetera, to new heights. Carlisle Etcetera benefits from the strong direct sales tradition of Tom James, the largest men's custom clothing direct sales company in the nation. The corporation creates a debt-free structure providing new services, support and an environment primed for expansion.
"Carlisle Etcetera forms the largest women's fashion direct sales company in the United States," said Jim Brubaker, CEO of Carlisle Etcetera. "We are poised to support tremendous growth." In their direct sales model, Wardrobe Consultants host private showings of their upscale clothing for discriminating customers. Fall showings continue through December 4.
Etcetera will be represented in over 700 cities, and offers a chic everyday lifestyle brand for women on the go. "Whether you are working, dining or celebrating, you'll always appear effortlessly stylish in our collections," said Mary Alice Heape, President. "The Etcetera customer appreciates quality and our essentially classic, yet fashion-forward, designs. This Fall collection is simply amazing, and, gauging by our stellar opening sales, our customers heartily agree. I am confident we will continue to exceed expectations."
Heape said that during the reorganization, Etcetera saw a 118% increase in Wardrobe
Consultants joining the company. "There is a tangible new vitality, new energy, permeating every corner of our business. There are so many positive areas of growth and improvement – we have added new talent to our design team, redesigned our public and internal websites, and provided, for the first time, a runway video of our collections."
"Our future looks very bright."
"It's these kinds of upgrades and additions that inspire and excite our consultants," said Heape. "To have so many developments in such a short period of time proves our future is, indeed, very promising - and, there are even more enhancements around the corner. Great news for both consultants and their customers."
"Carlisle Etcetera is owned by strategic investors, whose plan is to own and help build the company over the long term, in contrast to companies owned by financial investors, or private equity firms, whose plans may be to invest, sell, and then return money to the investors," said Brubaker. "Sales Consultants are the most important part of the company. We know that the one-on-one relationship they develop with their clients is the key to our success. We will invest time and money to make that a better and better experience. We plan to create better product, better sales tools, better service and better support for consultants and their customers."
"In summary," said Brubaker, "Carlisle Etcetera is firmly on track for unprecedented growth in the women's fashion direct selling market. We have the talent and resources, are soundly capitalized, are building a referral network that is unparalleled in the industry. And, we will be offering more and better incentives and benefits for sales consultants - the heart of our business."
Carlisle Etcetera LLC is headquartered in NYC, and has Wardrobe Consultants showing Carlisle, PerSe, and Etcetera collections seasonally in hundreds of cities and upscale suburbs across the nation.