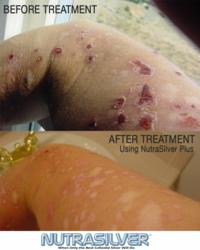 The question remains, where can sufferers go for treatment after abandonment by the CDC and medical professionals? They turn in droves to popular home remedies like NutraSilver.
Reno, NV (PRWEB) September 12, 2012
Morgellons cure discovery may have to wait. Recently, at the conclusion of a 3-year study by The Centers for Disease Control and Prevention of the condition known as Morgellons, an official statement was published on the well-respected peer-reviewed PLOSOne.org of the findings. It stated, "No common underlying medical condition or infectious source was identified, similar to more commonly recognized conditions such as delusional infestation." This statement indirectly concludes that the CDC found Morgellons to not be a disease of any kind, but a psychological disorder. Further clarification about this study on the CDC's own website states, "This comprehensive study of an unexplained apparent dermopathy demonstrated no infectious cause and no evidence of an environmental link."
In the eyes of an estimated millions of people worldwide who suffer with Morgellons symptoms, the situation now becomes desperate and demoralizing because without an official acknowledgement from the CDC there are profound complications that affect their ability to find any Morgellons treatment. These complications include the inability to seek out professional care and medical asylum because the CDC's ruling effectively denies doctors or medical professionals the ability to diagnose and treat Morgellons symptoms or prescribe medication due to the ruling that the condition is not recognized as a disease. Should doctors continue to treat it, they would therefore be liable for any complications. Most doctors follow the lead given by the CDC and reference Morgellons sufferers to psychiatric clinics for delusional parasitosis, essentially saying that the horrific symptoms are self-inflicted.
Unless you have the disease yourself, the amazing difficulties this condition presents for Morgellons sufferers can only be imagined in a nightmare. Millions are in search for a cure of any kind, but for those hopeful of an official Morgellons cure, the CDC's ruling can only be a major disappointment. No wonder these dynamics may lead victims into an emotional desperation that causes severe depression, suicidal tendencies (the main cause of Morgellons deaths), isolation from friends and loved ones, and loss of unemployment on top of the excruciating pain and embarrassment of their skin condition.
The unavoidable result of the CDC's ruling is that for the estimated millions of people who are in need of a Morgellons treatment, they are forced to find answers and search for a solution on their own. Since medical treatment is out of the question, millions of people seek to find natural solutions they can use at home to treat their devastating condition.
According to dozens of voluntary Morgellons success stories, many sufferers have mentioned their use of NutraSilver as the defining moment in their search for a Morgellons cure, because it has been a highly successful treatment of their symptoms. Their stories can be found at http://www.nutrasilver.com/morgellons-treatment
For more information about how NutraSilver addresses Morgellons symptoms, visit NutraSilver.com or contact Russell Altman.