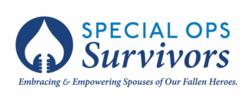 When asked what 9/11 means to her, Char Westfall the widow of a Navy SEAL, says "It brings things up because if it didn't happen then we as a country wouldn't be in this position, and I wouldn't be in my position."
Washington, DC (PRWEB) September 11, 2012
For the surviving spouses of Special Operations personnel killed in the line of duty since the 9/11 terrorist attacks on the United States, September 11th has special meaning. For the only organization dedicated to supporting these survivors, it is another day to make sure the heroes are remembered and the spouses are recognized for their sacrifice.
Like she does for other meaningful days throughout the year (Valentine's Day for example), Elizabeth Brown—executive director of the charity Special Ops Survivors—sent remembrance cards to 153 women who have experienced this loss.
It has been 11 years since the 9/11 terrorist attacks and for many September 11th has become just a normal day.
"But for the families we serve," Brown explains, "September 11th, 2001, will forever be a day that changed their lives—even if they were not aware of its impact at the time. It is a time of reflection for our organization as the surviving spouses we serve all lost their husbands as a result of military engagements in response to the terrorist attacks on that fateful day."
This is why Special Ops Survivors has outreach programs to make sure the spouses are not forgotten and get the support they deserve. Such programs rely on the support of donations.
"September 11th is a day that we reflect on the sacrifices of our military and first-responders, our fallen and wounded heroes, and their courageous families," adds Brown, herself a wife to an active duty Special Forces soldier.
When asked what 9/11 means to her, Char Westfall the widow of a Navy SEAL, says "It brings things up because if it didn't happen then we as a country wouldn't be in this position, and I wouldn't be in my position."
Her husband was CPO Jacques Fontan, a US Navy SEAL who died June 28, 2005, in Operation Redwing when his helicopter was shot down by enemy fire.
Since the 9/11 terrorist attacks, 454 Special Operations personnel have died in Operation Iraqi Freedom and Operation Enduring Freedom, according to the United States Special Operations Command.
Even though it has been 11 years since the 9/11 attacks and there has been a significant draw-down in troops in Afghanistan and Iraq, the reality is the pressure on Special Ops personnel remains extremely high.
"It's not over," Brown adds. "There are still guys out there who are risking their lives and who may not make it back."
No one understands this more than their spouses. Because of the sensitive nature of Special Operations, these spouses face unique challenges and experiences. Special Operations personnel may be called up without any notice, and may not know where they are headed or how long they will be gone. When they die in the line of duty, the full details may not be released and their spouses and families may be left with unanswered questions. Even if they do receive some details, they are often not supposed to talk about it. As a result, the heroism of their loved ones often goes uncelebrated in the public eye.
Special Operations personnel are referred to as the "quiet professionals" – and this is a culture that extends to their families, making support groups so important to surviving spouses.
"The active duty military family community is a close one, but once you are no long a part of that community—as in the case of a survivor—things change. The military does the best job possible in supporting survivors, but the military cannot be all things to all people," says Brown. "That's why our organization is so important to our survivors. We give these spouses the opportunity to connect with others who have something in common."
Special Ops Survivors works to empower surviving families of Special Operations personnel who have died since Sept. 11, 2001, to have a future that their fallen heroes would have wanted for them. The nonprofit organization provides surviving spouses with peer-based emotional support, financial assistance and life-skills resources.
For more stories from surviving spouses, to make a donation, or show your support to surviving families visit http://www.specialopssurvivors.org.