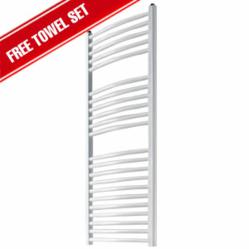 Products You Can Count On From People Who Care
(PRWEB UK) 12 September 2012
Those who are still thinking of increasing cold in winter that takes a heavy toll on the wallet, then the interesting idea by CNM Online is their way forward. With the introduction of new range of towel rails on the most popular online shopping portal, people can look forward to bidding goodbye to cold towels post a warm shower. Heated towel rails add beauty to the bathroom and warmth to post shower chill. With every passing day, bathrooms are being made interesting by adding spas and other forms of relaxation. People spend their time in bathrooms rewinding good memories of the day.
Showers rejuvenate people in the modern age stressed lifestyles. Those who find installing spa heavier for their budgets, should consider installing towel rails to beautify Bathrooms, which are easy on budget. With the winters approaching, people are busy arranging warmth and comfort for the family. While an ample stock of winter wear is ready, the next step is to arrange for necessary appliances for the chilly season. The most annoying feeling is to wrap a cold towel post a warm shower. Pre-heated towel rail is the answer to this feeling. Towel rails are specially designed for retaining heat in its surrounding area.
A Towel Rail ensures a fluffy and warm towel. Available in a wide range of designs and sizes by leading brands on CNM Online, Towel Rails can easily fit into big and small bathrooms. Both hand and body towels fit on the towel rails. Traditional towel rails use to mar the interiors of the bathroom with their repulsive look. However, the new designer towel rails add beauty to the modern-age bathrooms. People can choose from straight railings, funky shapes, stylish curved ones or trendy wavy ones. Now, families can ensure that towel rails match the interiors of their bathrooms by selecting matching them with their decor.
Towel rails double up as heaters for tiny bathrooms. Customers can now save the piling electricity bills in the winter season by installing towel rails. Not only towels, but also lingerie, handkerchiefs, and other small items become warm when hung on these rails. Earlier towel rails were high on budget and a customary round in the stores hunting for offers was mandatory. However, with the onset of easy online shopping at lower budgets by CNM Online, customers do not need to step out in the blazing sun, rainy day, or chilly winters. They can book a favorite towel rail, right from their homes at the click of a button.
Elated on the introduction of towel rails, the Senior Spokesperson at CNM Online says, "The towel rails at CNM Online will very much appeal the customers. Since the release, we have received a number of inquiries. We at CNM Online assure a trustworthy and hassle free shopping experience to our customers. We promise to keep on introducing new products on the portal."
About CNM Online
CNM Online is a family run business founded in 2004. The site has more than 200,000 customers and believes in offering solutions rather than products. The largest supplier of heating products for home, CNM Online offers a range of efficient and affordable solutions.
For more information , visit http://www.cnmonline.co.uk/Electric-Towel-Rails-c-111.html