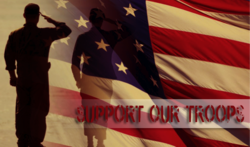 Support Our Troops
Dallas, TX (PRWEB) September 12, 2012
Far too often, members of our military are required to relocate from place to place on a moment's notice. Getting that vehicle to its new destination seems difficult and sometimes it can be overwhelming to handle alone. N-Motion Auto Transport is here to make it happen and in a timely fashion, while offering a military discount to ice the cake. N-Motion understands the many challenges that go along with the auto shipping process, but they handle all of the logistics because let's face it, they are the pros.
N-Motion Auto Transport creates a specific auto transport program to fit the needs of each customer. Vehicle transport is a crucial element of the relocation process and N-Motion is more than qualified to assist the military in its automobile transfer efforts. Customers return year after year for that priceless peace of mind, knowing that the vehicle is protected and handled with care throughout the entire transport process.
Quality transport companies are few and far between, but with N-Motion Auto Transport, the decision is a no-brainer. The new Military Auto Transport program offers soldiers the kind service that they not only expect, but that they deserve. N-Motion Auto Transport is a proud service provider of car shipping for the military.