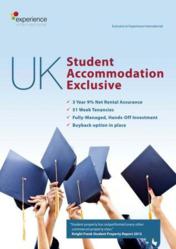 "Student property has outperformed every other commercial property class"

Knight Frank Student Property Report 2012
(PRWEB) September 13, 2012
The UK's capital, London, was named the no.1 international destination for student accommodation investment in the recent 2012 Jones Lang LaSalle's The Private Investors report titled 'International student destinations redefining the world of real estate investment'.
The Jones Lang LaSalle's report focused on the 'most exciting real estate markets and top international university destinations' across the globe and ordered cities based on international student populations and commercial real estate investment.
London is a hotspot for foreign students
London's abundance of highly sought after universities combined with its cultural diversity makes the city a hotspot for many foreign students. The total international student population in London is around 465,000, with China, India and Malaysia the most popular countries of origin of students.
And the overall number of foreign students from these Asian countries is rising. Data released by UCAS regarding the 2012 January 15th deadline shows that there has been a 13.7% rise in applications from Non-EU overseas students.
A lot of these students will choose to study in London and this growing number of students will of course be requiring good quality accommodation.
The popularity of purpose-built student property is certainly on the rise with international students opting to stay in purpose-built accommodation due to the security of the building itself, its close proximity to campuses and the facilities within the development.
London Student Property Investment
Due to the uncertainty surrounding the Eurozone crisis, London property has become a 'safe haven' for many European and international investors. An overall lack of volatility surrounding London's property market has helped Jones Lang LaSalle to forecast a 4% house price increase in 2012, which is set to be followed by 8% per year by 2014.
The 2012 Jones Lang LaSalle's report also stated that an overall lack of accommodation in London's rental market will 'ensure that prices and rents in the city remain stable' but that a growing number of investors will be opting for more desirable prime property assets.
"For the year ahead, investor demand is expected to be maintained, but there will be a continued polarisation between highly sought-after prime assets and less attractive secondary assets," the Jones Lang LaSalle report stated.
This would suggest that many student property investors will be searching for prime property assets in London that have consistent rental demand and achieve high rental yields.
Higher yields with purpose-built student accommodation
Purpose-built student property in the right location, either very near or on a university campus, should fit the prime asset criteria as both demand and yields are likely to be high.
Purpose-built student accommodation buildings are split into individual rooms or studio apartments to maximising real estate space enabling investors to achieve higher yields.
The large and increasing amounts of foreign students studying in London who prefer to stay in purpose-built student accommodation are prepared to pay a premium for the privilege. Room rates in London range from £150 to £350 per week - visit the Unite and Fresh Student Living websites for examples.
Exclusive Purpose-built London Student Property for Sale
Exclusive to London Property Agent, Experience International, a new development of student accommodation for sale has been launched in Kingston, Greater London, which offers investors the opportunity to secure a 3 year 9% NET rental assurance.
"We're pleased to launch a new student accommodation investment which is situated in close proximity to Kingston University's Campuses," Steven Worboys, MD of Experience International stated. "This is a rare opportunity for investors to enter the world's number one location for this sector and secure first class returns from a well-established and proven business model."
Investors can purchase one or more self-contained studio suites available from the low entry level of £92,500. The rental income, which is paid monthly, provides investors with a stable and passive income throughout the duration of their investment.
Purchased on a 250-year leasehold, 5% interest will be paid on deposited funds throughout the build phase and there is a developer buyback option in place from year 3.
As universities in the UK become increasingly commercial and courses evolve to attract the best calibre of student, investors will secure long-term tenancies from the increasing demand for rooms which is underpinned by an expanding international student population.
With a student population of 24,720 students, Kingston University is already a popular choice for international students with 4,124 of the university's total population made up from overseas students from around 151 countries.
For more information about student property for sale contact Experience International on 0207 321 5858 or email enquiries(at)experience-international(dot)co(dot)uk.