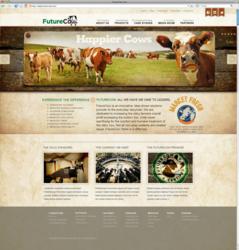 FutureCow has worked diligently to create a Gold Standard that is the foundation for our core values and the standard of excellence. We have effectively conveyed this in the new FutureCow website.
Longwood, FL, (PRWEB) September 11, 2012
FutureCow announced today the unveiling of a new website at http://www.futurecow.com. The new FutureCow website is designed to brand their Gold Standard in cow prep, promote their innovative teat scrubbing system, demonstrate their unparalleled commitment to the dairy farmer, and promote their partnership with GEA Farm Technologies, one of the world's leading manufacturers of technical innovations, integrated product solutions and effective animal hygiene products for cost-efficient milk production.
The new website offers a comprehensive overview of the products and services and is easy to navigate. It effectively conveys the FutureCow Promise which incorporates their Core Values and their Gold Standard in cow prep with the first truly integrated UL standardized udder scrubbing system. The FutureCow™Teatscrubber provides an extremely effective and reliable process to wash, disinfect, dry and stimulate the dairy cow's teats prior to milking. The advantages of this system include labor savings, increased efficiency, improved udder health, precise removal of contaminants, and improved milk quality.
"FutureCow has worked diligently to create a Gold Standard that is the foundation for our core values and the standard of excellence," said Kevin Long, FutureCow's GM/VP of Sales & Marketing. "Whether it's the large dairy farms or the small to mid-sized parlors, FutureCow is committed to delivering the highest standards in teat prep and cow comfort every day in everything we do", he continued.
About FutureCow:
Alpha Technology USA Corporation D.B.A. FutureCow, is a privately-held company located in Longwood, Florida. As an innovative, technology driven manufacturing and consulting firm that specializes in solutions for the dairy industry, the FutureCow organization is dedicated to providing alternatives to producers that are cost-effective as well as profitable.
Their focus is to offer products such as the FutureCow Teatscrubber, the industry's leading udder scrubbing system along with innovative services that are cost-effective, reliable and profitable for the dairyman.
FutureCow is dedicated to increasing the dairy farmers overall profit and increasing their bottom line, while never sacrificing for the comfort and humane treatment of the dairy cow. Not all cow prep systems are created equal. At FutureCow, there is a difference.
FutureCow maintains an ever-growing client list that includes some of the most progressive dairy operations in the United States as well as abroad. The herd sizes of their clients range from 300-5,000 cows milked and generally average 150,000 SCC with less than 1% mastitis.
FutureCow's core values are based on three simple words: dignity, fairness and respect. It is how they treat everyone that they interact with, whether it's a co-worker, client, or a
cow. FutureCow's mission is to be committed to providing the highest standards and best value in the dairy industry.
To learn more, please visit futurecow.com.