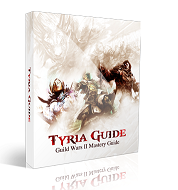 (PRWEB) September 11, 2012
Guild Wars 2 has taken over the gaming world by storm in the last few weeks, as the second title in the franchise seeks to quickly surpass the original Guild Wars in sales in just a short few months. The main objective of the game is for players to build up their characters by leveling them up and acquiring new equipment for these characters. This increases the strength of the player, allowing them to fight computer-controlled enemies as well as other players more effectively. With the release of Tyria Guide, players now have a complete resource for achieving these goals quickly and efficiently.
When it comes to building up the strength of their characters, players need to level up faster and deal more damage. Both of these goals can be achieved through the use of a proper build, which includes picking the perfect combination of weapon, skills, and traits for optimal damage. There are millions of different combinations, so picking the perfect build is no easy task. That is where Tyria Guide comes in, providing players with the exact builds they need for the Thief as well as the other professions.
The creators of Tyria Guide have previously created guides for SWTOR, Diablo 3, TERA Online, and Rift: Planes of Telara. They are seasoned experts that have been refining their guides and strategies over the last 2 years to create easy to follow yet highly effective strategy guides that tens of thousands of players from around the world have been enjoying.
While Tyria Guide does advertise their Guild Wars 2 Thief builds guide as top-tier, it is not the only strategy guide found inside this comprehensive Guild Wars 2 guide. Players can find builds and strategies for all 8 professions as well as guides for other aspects of the game such as crafting and player versus player battles.
Players of competitive computer games have been known to try to get an advantage over other players through any means necessary, and with the release of Tyria Guide, these players now have a new secret weapon in their arsenal. More details about Tyria Guide can be found at Strategy Guides HQ.