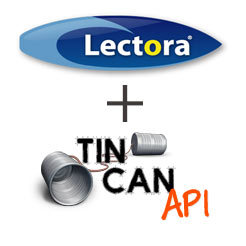 Lectora joins an impressive list of other early adopters of the Tin Can API...
Nashville, TN (PRWEB) September 12, 2012
Tin Can API, a new e-Learning standard that allows for the tracking and recording of learning experiences anywhere, from any device, continues to gain traction as more and more e-Learning software providers commit to adopt.
Today, one of the world's leading e-Learning software providers, Lectora, announced their commitment to support the Tin Can API in the upcoming release of Lectora Version 11. Lectora has also confirmed that the next release of CourseMill LMS (learning management solution) will include support for this new standard.
"Lectora joins an impressive list of other early adopters of the Tin Can API," said Tim Martin, Partner at Rustici Software. "With the long reach of Lectora in the e-Learning industry, its adoption further solidifies the Tin Can API as the way forward for learning and performance tracking."
The Tin Can API allows for a wide range of e-Learning systems to securely communicate with a simple vocabulary and capture a stream of learning activities. Unlike previous learning specifications that were difficult to implement and had numerous limitations, Tin Can is simple, flexible and more robust.
"The adoption of Tin Can for our products demonstrates our dedication to offer the most innovative e-Learning solutions," said Peter Bray, Chief Marketing Officer at Trivantis Corporation. "We will continue to create and support the most advanced e-Learning developments so our clients can stay ahead of the curve with new, successful technologies."
The Tin Can API can easily recognize and track a wide range of learning activities including:
1. Mobile learning
2. Simulations
3. Virtual worlds
4. Serious games
5. Real-world performance
6. Social-learning
7. Experiential learning
8. Offline learning
9. Collaborative learning
10. Traditional learning
To learn more about the Tin Can API, visit http://www.TinCanAPI.com.
To learn more about Lectora e-Learning software, visit Lectora.com.
About Rustici Software
Rustici Software was awarded a Broad Agency Announcement (BAA) from Advanced Distributed Learning (the stewards of SCORM) to interview a large portion of the e-learning community, research and develop an Experience API which is now part of Training and Learning Architecture (TLA) (the next generation of SCORM) of SCORM. This effort was named "Project Tin Can", and the outcome was the Tin Can API version .8. Rustici Software continues to be a major contributor to the Tin Can API, with solutions that greatly simplify the adoption of the specification.
Twitter: twitter.com/ProjectTinCan
About Lectora®
Lectora is the world's leading e-Learning software used by most Global 2000 companies in more than 125 countries and is offered in six languages. The Lectora line of e-Learning products includes Lectora Inspire, Lectora Online, Lectora Publisher and Lectora Integrator. The makers of Lectora also produce Flypaper™, the leading Flash content creation platform, Snap! by Lectora® rapid e-Learning software and its sister product, Snap! Empower™ Flash interactions builder. The Lectora family of e-Learning products also includes CourseMill® learning management system (LMS) and Lectora Talent Management. Lectora is headquartered in Cincinnati, Ohio with offices in Boca Raton, Phoenix, Paris and London. Lectora, Flypaper, CourseMill, Snap! by Lectora and Snap! Empower are trademarks of Trivantis® Corporation.
Twitter: twitter.com/Lectora