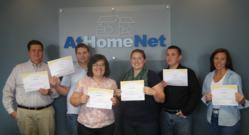 "We congratulate industry professionals who take the time and effort to earn CAI's Educated Business Partner distinction," said CAI Chief Executive Officer Thomas M. Skiba, CAE
Duluth, GA (PRWEB) September 12, 2012
The Account Management team of AtHomeNet, Inc., a provider of web-based services for community associations and association management firms, has recently achieved the distinguished 'Educated Business Partner' status; awarded through the Business Partner Essentials Program of CAI (Community Associations Institute). Dave Hosie, Director of Sales commented "the course gave our team valuable insights into the responsibilities and opportunities of working with associations." With over 60 chapters worldwide, CAI provides professional education and leadership programs for community managers, association management companies, and association volunteers, as well business partners that offer services to homeowner associations.
AtHomeNet's account management team joins a small group of professionals nationwide who have successfully completed the two part Business Partner Essentials course and assessment. The course is designed to promote better understanding of community associations to the many types of businesses serving them and the material covers a wide range of topics including the history of associations, the bid process, and the ethics of doing business with an association. Those successfully completing the course and examination achieve the recognition of 'CAI Educated Business Partner'.
"We congratulate industry professionals who take the time and effort to earn CAI's Educated Business Partner distinction," said CAI Chief Executive Officer Thomas M. Skiba, CAE. "This achievement demonstrates a personal and corporate commitment to industry-specific education. It also reflects a desire to understand not just their own business clients, but also the nature and challenges of community associations in general. CAI applauds this accomplishment. "
AtHomeNet has been a member of CAI for 14 years; partnering with many of the state chapters in providing education programs and conferences for their membership. AtHomeNet will be an exhibiter at the CAI Annual Conference to be held in San Diego, CA in April of 2013.
About AtHomeNet, Inc.
AtHomeNet® is the nation's premier provider of customized, affordable websites for communities and Professional Association Management Firms. The company was founded in 1998 by Jeff and Susan Sanders. With their HOA websites now being used in over 2 million homes in 8 countries, AtHomeNet continues to grow as a company and enhance their services in the ever expanding world of online technology. For more information on AtHomeNet please visit http://www.AtHomeNet.com or contact Cyndi Sanders at Marketing (at) AtHomeNet (dot) com or call 1-800-556-7852.