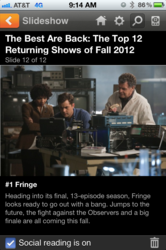 "We have some great writers and TV critics on staff who love watching TV," said CEO and co-founder of BuddyTV Andy Liu. "We can't help but be excited to share our expertise in the world of television through the new Fall TV Guide."
Seattle, WA (PRWEB) September 12, 2012
BuddyTV released the Top 12 returning shows for its Fall TV Guide. Visitors to the site and iOS BuddyTV Guide app will have access to BuddyTV's exclusive list of returning shows that deserve watching. BuddyTV Guide built the Fall TV Guide to help people discover and decide what to watch because Fall is a notoriously busy time which makes it difficult to determine what shows to watch.
"We have some great writers and TV critics on staff who love watching TV," said CEO and co-founder of BuddyTV Andy Liu. "We can't help but be excited to share our expertise in the world of television through the new Fall TV Guide."
Among the returning shows that BuddyTV experts recommend watching are "Once Upon a Time" and "Grey's Anatomy." BuddyTV also suggests tuning in to "Dancing with the Stars" because the newest season is full of All-Star celebrities, complex dance routines, and tough competition. The list consists of twelve returning shows that BuddyTV experts rank and recommend.
Now that people know what they want to watch, the BuddyTV 2012 Fall Guide also includes a calendar filled with new and returning show premiere dates. The website has a plethora of information on past episodes, which makes it easy to catch up in preparation of the new seasons.
This is the first time BuddyTV has launched the Fall TV Guide on both web and mobile, with the goal of making Fall TV information easily available. Users can add their new Fall TV shows to their Watchlist on mobile devices, which gives them the option to set reminders so they know exactly when to tune in. The Fall TV Guide was crafted precisely with the busy TV-watcher in mind.
About BuddyTV:
BuddyTV originally released the TV Guide App in September 2010. BuddyTV's goal is to help TV fans discover their must-see TV. As the #1 independent TV site on the web, this means providing a venue for over 5 million unique visitors per month to connect with fellow fans, read the latest news and enjoy entertaining features about their favorite shows. Now, with over 400,000+ downloads on iOS and an almost perfect average user rating of 4.5 stars, the BuddyTV Guide app is enhancing and expanding the ways that consumers enjoy their TV time.
Press Contact:
For press inquiries or to arrange an interview with BuddyTV CEO Andy Liu, please contact Lindsay Hersh: Lindsay(at)buddytv(dot)com or 206.859.4180
For more information about BuddyTV and the BuddyTV Guide App, visit BuddyTV.com, BuddyTV Guide's FB page, and follow @BuddyTVGuide.