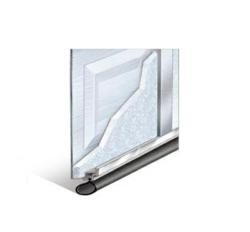 London, UK (PRWEB UK) 12 September 2012
Improvements to the insulation of your home is a development that will quickly end up paying for itself in terms of the amount that it will save the household from their monthly bills. Whilst padded insulation in the attic and walls can do wonders for energy conservation, one of the biggest impacts that home-owners can take to improve the energy conservation in their house is to upgrade to a superior quality of insulating door.
1. Energy Conservation
When it comes to keeping your carbon emissions low, the best tactic for an easily achievable reduction is to make a change that won't impact on your daily routine. This way the one-time change isn't a consideration and you are free to lead your life without thinking about it. Insulating your house properly allows you to get the most out of the energy that you do use so that you don't have to lose any to wastage.
2. Bill Reduction
For those that are less environmentally minded, energy conservation goes hand in hand with bill reduction and saving you money. With the cost of living constantly increasing, an efficient home can be a great way to rack up a huge saving on your bills over the course of a year. And because proper insulation is a one-time investment, these upgrades to your house will start to pay for themselves with the money you save.
3. Security and Atmosphere
Installing a sturdy door isn't just about saving money and energy, you can also improve the atmosphere of your own precious home. A thick door will trap heat in a cosy and comfortable way that helps your home to feel like part of its own world. Your new door will also be an upgrade to your home security, when combined with strong windows, the security of your house will do wonders to deter would-be criminals and opportunists.
4. For the house proud
Even aesthetically, the benefits of installing a new door are numerous as you get to choose from a great selection of designer patterns, styles, shapes and materials for your new door. Whatever your personal taste, you can pick out your favourite door as you take incremental steps to developing that dream house that you always wanted.
Lakes Doors are a family run business based in Garstang, Lancashire. With over twenty years of experience in the industry, Lakes Doors specialise in selling bespoke doors, gates and garage doors of the utmost quality to customers all over the country.