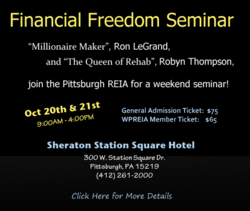 "If you know how to invest in real estate, your credit doesnt matter at all. Real investors dont borrow money from banks. We teach people how to be real investors" Josh Caldwell WPREIA President
Greentree, PA (PRWEB) September 12, 2012
The Western PA Real Estate Investors Association is a club for real estate investors. The club meets every third Tuesday between 7:00 and 9:00 in the town of Greentree, PA. The meetings are open to all WPREIA members. Guests are welcome and the first meeting is free to attend.
The club works to educate investors in the latest techniques to make big money in this evolving economy. As the market moves, so does the club educational focus. In this present environment there are many would be investors who think that real estate is not an investment option due to credit issues. The truth is very different. To an educated investor, credit is irrelevant. Not everyone who wants to make money in real estate is a Donald Trump or a Robert Kiyosaki. This is not a reflection on the Pittsburgh area. Untrained investors all over America are failing to understand that with the proper techniques, anyone can own and make money from real estate investments.
WPREIA is bringing in Paul Ritter as a special speaker to address not only credit myths as they apply to real estate investors, but also to help everyday people who want to be home owners, but can't seem to qualify for a traditional loan. For anyone who has credit problems, talking to an experienced credit clean up professional like Paul Ritter is a great start. For anyone who is unsure of their credit score, there are many paces on the internet where a person's credit score can be checked. Many Western PA Real Estate Investors us a company called to Background Report 360 to check the scores of potential tenants. This service is a great starting point to determine credit problems. It is a good idea for anyone to check their own credit report annually. In many cases there will be errors on the report. Paul Ritter and other credit repair experts know how to get these erroneous items taken off of a credit report. Credit repair is a unique skill that not many people understand. For anyone who has a credit issue or for those who just want to learn more about how credit reporting agencies work, contact WPREIA and get the details of the next meeting.
The Credit repair seminar is a small classroom style block of education in the much wider Financial Freedom Seminar Series sponsored by the Western PA Real Estate Investors Association. This seminar series is designed to help everyday individuals achieve their dreams of financial freedom. The next big event in this series is the multi-speaker real estate educational seminar scheduled for October 20-21st and featuring real estate legend Ron Legrand. This event will be held at the Sheraton Hotel in Station Square. Tickets to this event are limited to 150 seats. This event is open to all and is expected to sell out.
The Financial Freedom Seminar Series is a multi-year project. The intent of the project is to brink the best known and most respected investing teachers to the Pittsburgh area.