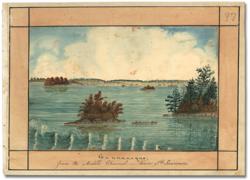 Prescott, Ontario (PRWEB) September 12, 2012
Perth and the Rideau Canal have something in common. Both were developed as a direct result of the War of 1812. Much of the subsequent settlement north of the St. Lawrence River following the war was impacted by the conflict.
Join Dr. David Shanahan for a talk on how the War of 1812 shaped settlement in Eastern Ontario on Sunday, September 16, 2012 at 5:30 P.M.
David, a professional Historian, works primarily with First Nations across Canada, with a particular focus on Ontario. Since 2007, David has also served as President of the North Grenville Historical Society.
This talk is part of the War of 1812 Dinner series hosted on the third Sunday of each month at the Red George Pub in Prescott. A period dinner is served. As seating is limited reservations are strongly recommend and can be made through +1.613.925.8800