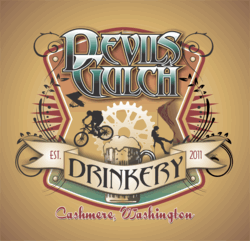 Devil's Gulch Drinkery is proud to offer micro brews from Pacific Northwest breweries and live music
Cashmere, Washington (PRWEB) September 13, 2012
Devils Gulch Drinkery in Cashmere, Washington is a one of a kind experience for travelers and locals alike in the Northwestern United States.  Opening in 2011, owner Troy Lindsey had a vision after speaking to other small business owners in the area of a small, comfortable bar where patrons could always feel relaxed and in a friendly, welcoming atmosphere while sampling some of the finest Pacific Northwest micro brews and wines that the local area and Northwest as a whole has to offer.  
Troy has been all over the world in his employment with worldwide heavy lift helicopter operator Erickson Aircrane http://www.ericksonaircrane.com out of Central Point, Oregon.  Troy has used this well traveled, gypsy lifestyle to his advantage in knowing what the traveler, as well as the local bar patron, enjoys while looking for a nice atmosphere in which to relax whether away from home, or for the local looking to enjoy a more social atmosphere. 
Speaking of local, Devils Gulch Drinkery has recently added the live streaming broadcast of all of the Cashmere games, whether home or away.  Recognizing the importance of having pride in one's local area and the support of the youth, Devils Gulch Drinkery wanted to bring the ability to support the teams to locals even when they are on the road for away games. However, Devils Gulch Drinkery does not plan to stop the sports with local football games alone, but continuing on with broadcast of seasonal sports and coming into the always highly anticipated NFL season, one can always count on the broadcast of a game whether it be Monday night, Saturdays, or Sundays! 
A large draw for both locals and tourists in the Cashmere and greater Central/ Eastern (http://trails.mtbr.com/cat/united-states-trails/trails-washington/trail/devils-gulch/prd_170872_4586crx.aspx ) Washington area has always been the abundance of outdoor activities, beautiful scenery while in proximity to larger, urban areas, and as of the last 15 years, the numerous fine local brews and wines that have continued to grow. Some of the current Pacific Northwest breweries and local beers that Devils Gulch Drinkery offers are Icicle Brewing, local brewery Iron horse Brewery , Alpine , Deschutes , Drop Top by Widmere , and a variety of other seasonal beers and wines. 
When originally envisioning his dream of opening a small pub, Troy fell in love with the local area of Cashmere and specifically the location where the pub is located.  Being in such a quiet, beautiful area, Troy was introduced to the old fruit packing warehouse which houses other business. There is 4 Pacific Northwest wineries (Waterville Wineries, Horan Estates, Dutch Johns and  Crayelle Cellars) There is also a Distillery in the building ( It's Five O'Clock) And a coffee shop (Snapdragon Coffee) along with a wine barrel furniture store.
Live music has been a large part of Devils Gulch Drinkery since the institution of the pub in 2011.  Troy, an Americana musician himself (http://www.troylindsey.com), has an acute appreciation of all kinds of music and has brought Devils Gulch to the forefront of the local area in introducing new artists as well as expanding their musical venues from open mic nights to the introduction of new bands in the greater Pacific Northwest live music scene.  Wednesday night has been the open mic night at Devils Gulch, in which anyone can feel free to step up and showcase their individual or group talents.
One closing note when the bar was started it was a joint venture with Alicia Lindsey. She was co-owner and ran the bar for over a year while Troy worked on the road. She contributed immensely to building that and creating the living room feeling. The bar would not have made it without her! In the fall of 2012 Alicia decided to leave and move on to other things. She will be missed and the bar will always have a part of her in it!!