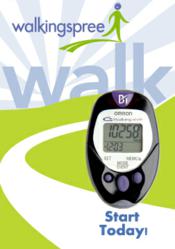 The proven financial and non-financial success of this client's walking program clearly demonstrates our focus on the longer term results and the effectiveness of the Walkingspree program," said Lisa Rousseau, VP of Member Engagement at Walkingspree
San Antonio, TX (PRWEB) September 12, 2012
Walkingspree is pleased to announce they are the employee walking program provider to SKF USA Inc., this year's winner of the 2012 Benny Award for Benefits Leadership in Health Care which was presented to Raymond Eames, Director of Benefits at SKF USA, Inc. This highly regarded award validates the success of their proactive approach to their employee walking program supported by leading corporate wellness provider, Walkingspree.
"We are excited to have another one of our clients win a prestigious industry award in benefits management. The proven financial and non-financial success of this client's walking program clearly demonstrates our focus on the longer term results and the effectiveness of the Walkingspree program," said Lisa Rousseau, Vice President of Member Engagement at Walkingspree. The entire SKF USA, Inc. wellness walking success story was featured in the September 1 issue of Employee Benefit News.
For more than 6 years, Walkingspree has worked with companies across multiple industries providing affordable and flexible employee walking programs which have produced positive ROI while meeting the needs of unique employee populations. As cited in the EBN article by Kathleen Koster, "SKF USA Care posts an ROI of 9.38 to 1, according to the Physical Inactivity Cost Calculator. The wellness culture contributed to health care costs increasing only 1.4% in 2012, well below the 9.3% average increase for the previous three years."
Koster went on to report exceptional employee engagement results including "60% of participants say they feel healthier, 37% feel more productive, 12% take fewer sick days, 78% feel more positive about the company."
"Forward-thinking companies who embrace walking and offer organized programs to their workforce understand the connection between fitness and productivity," said Rousseau.
A co-founder, Rousseau works with companies to design custom walking programs best suited for each workplace by using computer connected pedometers - and online portals to monitor, track and manage goals with appropriate rewards. "Ultimately, a healthier workforce is instrumental in lowering health care costs," she added.
For the full article, please see http://ebn.benefitnews.com/news/raymond-eames-skf-benny-award-healthcare-leadership-walking-2727076-1.html
ABOUT WALKINGSPREE
Walkingspree is a specialized wellness provider whose expertise is to deliver a technology-driven prevention focused activity program for health insurers, wellness industry partners and corporate clients. Through customized online wellness portals and programs, clients receive measurable results and engage participants in a feature rich community. The company's corporate wellness program – based on a computer connected pedometer to track validated steps, interactive food and body trackers, an active social network, and gamification techniques – typically delivers more than 50 percent employee participation and year-over-year member retention. Results are healthier employees and a positive return on investment for clients. Walkingspree programs have been implemented in major health insurers, insurance brokers, Fortune 500 companies, and small to medium businesses. For more information, visit http://www.walkingspree.com