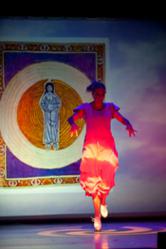 With nature's help, humankind can set into creation all that is necessary and life sustaining. Hildegard of Bingen
Boulder, CO (PRWEB) September 12, 2012
Prophetic and bold, the 12th-century abbess Hildegard von Bingen took incredible personal risks to fight for the rights of women and the oppressed, centuries ahead of her time. Today, she's about to receive recognition worthy of such a visionary, as Pope Benedict XIV will declare her a Doctor of the Church on Oct. 7, 2012–making her one out of only four women ever to receive the title.
Dr. Jeannine Goode-Allen, of Viriditas Productions, LLC will be presenting an exhibit, Hildegard's Journey Through The Senses: A Traveling Exhibit at the Creator Mundi Gallery, 2910 East Third Avenue in Denver, Colorado, 80206, in early October 2012. Goode-Allen, D. Min., a playwright and performer, musician and teacher whose life's work has been inspired by Hildegard, invites those with an appreciation for inspirational artwork and historical significance to attend the exhibit, and to learn more about a truly unique individual.
"The exhibit embodies the beauty, warmth and power of Saint Hildegard and displays 25 handcrafted art pieces made by calligraphers, stained glass and model builders from Greeley, CO. Visitors can view Hildegard's illumination paintings, biographical stained glass, finely crafted models of the Rupertsberg and Eibingen abbeys and a medicine cabinet with her healing remedies some of which are available to taste," said Goode-Allen. For further information please call 888-612-8189.
The foretelling teachings of von Bingen have struck a chord with the current German-born Pope Benedict. Bingen's influence on him may be tied to his love of classical music, while the rise of interest in medieval women also plays a role. Insistent about societal reform, Hildegard's teachings guided the church to lead with just and moral principles. In the last few years, Benedict has repeatedly referred to her writings and prophecies, especially in difficult times when addressing the church's sexual abuse controversy.
"Church leaders have always turned to women at times of profound political and identity crisis. When normal means seem to fail, women's strong, non-institutional faith and voice have always managed to call for an awakening of conscience," says Alessandra Bartolomei Romagnoli, a Middle Ages historian at Rome's Pontifical Gregorian University.
According to Goode-Allen, the Pope during the time of Hildegard's life recognized the need for that strong voice and authorized her to preach in public, a role that was forbidden for women and still remains controversial in Catholicism.
"She was not hesitant to use her voice and encouraged others to be useful in their lives," said Goode-Allen. "Though outspoken about social justice and the environment, Hildegard held close to the church's doctrines and worked within the institution."
Historical influences greatly shaped Hildegard's journey as an artist, musician and poet. The demise of the feudal system in the Middle Ages brought a renaissance of the arts that allowed von Bingen's talents to flourish. Much of her work still survives, including accounts of her visions, music, medicine, and letters.
"Hildegard was a composer, writer, healer and abbess who thrived on creativity as a source of inspiration. She brought an incredible amount of light to a dark period of history," said Goode-Allen.
Goode-Allen is also co-leading a retreat, Birthing Visions: A Pilgrimage and Creative Retreat to Hildegard's sites in Germany on March 13, 2013. The retreat introduces participants to Hildegard's life and teachings, and invites then to engage in creative and contemplative explorations of their own visions. For further information please call 888-612-8189.
"In these changing times, Hildegard's wisdom can serve as a guide. She teaches us to never give up. Sometimes it can take as much as 900 years until doors open," concluded Goode-Allen.