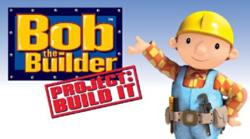 Santa Ana, CA (PRWEB) September 11, 2012
Pick up your hammers and put on your hardhats! Bob the Builder® and his Can-Do Crew are inviting aspiring builders and their families to the hands on exhibit, Bob the Builder—Project Build It, coming to Discovery Science Center, September 15, 2012.
The 2,500 square foot multimedia exhibit invites exploration, inspires teamwork and a Can-do attitude, and brings eco-friendly building themes to life for children and families. Sunflower Valley will come to life with countless discovery-based games, hands-on activities, and interactive exhibits that promote and encourage creativity and the satisfaction of a job well done. Exciting activities and exhibit interactive elements include:

Meet the Can-Do Crew: Construct an afternoon of activity – build memories and snap photos with a kid-sized, three-dimensional Bob the Builder, Scoop and Benny, among others.
Bob's Mobile Home: See Bob the Builder's blueprint for success as children explore their favorite builder's mobile home. Children can be part of the crew and help fix the drip coming from Bob the Builder's sink or watch video clips from the popular series.
Build the Machine Shelter: Be part of the team, laying stones in the walls of the machine team's shelter and building stalls for Scoop, Muck, Roley and Dizzy to sleep.
Drive a Machine: Let's Scram! Climb aboard Muck the Digger Dump Truck, rock and roll with Roley the Steamroller and dig up fun with Scoop the Digger!
Talkie Talkie: This problem-solving crew has a lot to say and each member has a special phrase. View a picture of each team member and push a button to hear their signature catch phrases.
Wendy's Caravan: Wendy needs some help from the team to refurbish and decorate her caravan and plant beautiful flowers.
Water Pump: Farmer Pickles isn't the only one in Sunflower Valley that knows that water conservation is important. Children can explore the interactive water pump station, learn important messages about water conservation and help to bring water to Sunflower Valley.
Produced by The Children's Museum of Indianapolis and inspired by HIT Entertainment's popular television series, the Bob the Builder- Project: Build It exhibit is focused on bringing building themes to life for children and families.
The interactive environment is rich in objects, shapes, sounds, colors, and hands-on activities that allow preschool and young children to be able to manipulate tools, build, explore, and interact socially with others.
Bob and his Can-Do Crew are calling for your help so get ready to hammer out the solutions! Can We Fix it?™ Yes We Can!
About Bob the Builder™
Bob the Builder and his machine team are ready to tackle any project. As they hammer out the solutions that lead to a job well done, Bob and the Can-Do Crew demonstrate the power of positive-thinking, problem-solving, teamwork and follow-through. Most importantly, from start to finish, the team always shows that The Fun Is In Getting It Done! Bob the Builder can be seen building, digging and hauling on PBS KIDS® and Sprout®. Episodes are also available for download through iTunes. For more information about Bob the Builder, and the Can-Do Crew please visit http://www.bobthebuilder.com. Follow Bob the Builder on Facebook at http://www.facebook.com/bobthebuilder and Twitter @CanWeBuildIt.
About HIT Entertainment
HIT Entertainment is one of the world's leading children's entertainment producers and rights owners. HIT Entertainment is a division of Fisher-Price. HIT's portfolio includes properties, such as Thomas & Friends®, Mike the Knight®, Barney®, Bob the Builder®, Fireman Sam®, Angelina Ballerina®, Pingu® and Rainbow Magic®. Launched in 1989, HIT's lines of business span television and video production, content distribution, publishing, consumer products licensing, digital media, and live events and has operations in the UK, US, Canada, Hong Kong and Japan. For more information, visit http://www.hitentertainment.com.
About The Children's Museum of Indianapolis
The Children's Museum of Indianapolis is a non-profit institution committed to creating extraordinary family learning experiences that have the power to transform the lives of children and families. The 472,900 square-foot facility houses 11 major galleries. Visitors can explore the physical and natural sciences, history, world cultures, the arts, see how dinosaurs lived 65 million years ago in Dinosphere: Now You're in Their World®, experience Dale Chihuly's Fireworks of Glass and examine children's impact in shaping history in The Power of Children: Making a Difference. The Children's Museum, situated on 20 acres of land in Indianapolis, presents hundreds of programs and activities each year. For more information about The Children's Museum visit http://www.childrensmuseum.org.
About Discovery Science Center
Imaginations run wild with 120 hands-on exhibits at Discovery Science Center (DSC), Orange County's leading destination for hands-on science entertainment. Take the Eco Challenge and become a green superhero and feel the power of a real rocket engine launch! Plus, the Science Center's signature events don't just foster science education, but also provide entertainment for the whole family. From our annual Bubblefest and Rocket Launch to blockbuster traveling exhibits such as Star Wars™: Where Science Meets Imagination, there is always some new to experience. DSC is a non-profit organization dedicated to educating young minds, assisting teachers and increasing public understanding of science, math and technology through interactive exhibits and programs. It is a community-wide resource where families come together to learn and have fun and school districts can use as an educational resource. For further information, visit http://www.discoverycube.org or call (714) 542-2823.