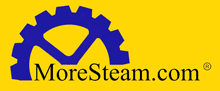 MoreSteam.com is the first and only company to fulfill the international demand for advanced Lean Methods e-Learning in multiple languages.
Powell, OH (PRWEB) September 13, 2012
MoreSteam.com (http://www.moresteam.com), the leading global provider of online Lean Six Sigma (LSS) training and Blended Learning support technologies, has expanded its international course catalog with the release of four new language versions of its popular Lean Methods Accelerator online training course. Available immediately in Chinese, German, Portuguese and Latin-American Spanish, in addition to the original English version, the 18-hour, interactive Lean Methods course is the first of its kind to provide global professionals with a comprehensive overview of Lean Enterprise tools and methods. Lean Six Sigma deployments can deploy these practice-based e–Learning courses with little to no setup, providing their remote employees with full access to comprehensive, consistent and effective Lean training.
Over the past decade, as multinational corporations have expanded their operations to non-English speaking countries, their internal training departments have faced the quandary of how to offer these remote employees the same high-quality process improvement and waste reduction training that they offer to their English-speaking employees. The cost of locating, hiring, and deploying fluent instructors, along with the difficulty of translating and maintaining training materials across multiple languages, can be prohibitive for most process improvement initiatives. The optimal solution is MoreSteam's interactive e-Learning, because it effectively delivers affordable, practice-based on-demand training in native languages through a single online portal.
Lean (also referred to as Lean Methods or Lean Speed) is a set of tools developed to reduce the waste associated with the flow of materials and information in a process from beginning to end. The goal of Lean is to identify and eliminate non-essential and non-value added steps in the business process in order to streamline production, improve quality and gain customer loyalty. In response to customer demand and the rising interest in Lean, MoreSteam has completed the translation of its popular English Lean Methods Accelerator online course into Chinese, German, Portuguese and Latin-American Spanish. Training organizations can purchase and use these e-Learning courses as standalone material or easily incorporate them into a Blended Learning program.
These new language versions are delivered on-demand in a 100% online and self-paced multimedia format, complete with the quizzes, simulations, and practice exercises that engage students and reinforce the learning. Organizations can register students and begin to train with no setup required other than a computer and Internet connection. The courses all use Microsoft® Excel®-based tools and templates to teach an introduction to the basic concepts of Lean and over 20 Lean tools, including Value Stream Mapping, 5-S, Error-proofing, Spaghetti Charts, Quick Changeover, Cellular Processing, Core Process Pull, Theory of Constraints (TOC), and the A3 One-Page Report.
"MoreSteam is the first and only company to fulfill the international demand for advanced Lean Methods e-Learning in multiple languages," noted Bill Hathaway, President of MoreSteam.com. "We recognize the mounting complexity of international training and how this has stymied the adoption and application of Lean methods. We are proud to support our customers and the global operational excellence community by effectively eliminating the language barrier to Lean learning."
In the past year, MoreSteam.com has previously translated its 80-hour Lean Six Sigma Green Belt, Lean Six Sigma Overview, and Lean Six Sigma Yellow Belt courses into the same four languages. Continuous improvement deployments and individual practitioners can obtain pricing and purchase licenses for any or all of these online courses by contacting MoreSteam.com directly. Information and outlines for these language course options are available for viewing on the MoreSteam.com Web site: http://www.moresteam.com/lean-six-sigma/languages.cfm.
About MoreSteam.com
MoreSteam.com is the leading global provider of online Lean Six Sigma training and Blended Learning technology, serving over 2,000 corporate clients and over 50% of the Fortune 500 with a full suite of Lean Six Sigma e-Learning courses, EngineRoom® data analysis software, TRACtion® online project tracking software, Crucible® online testing, and SigmaSim® online DMAIC simulations and games. MoreSteam.com was launched in the year 2000 in response to the high cost of traditional Six Sigma training and tools, and has now trained over 370,000 Lean Six Sigma professionals. MoreSteam's mission is to enable people to advance the performance of their organizations by delivering powerful tools for process improvement to the widest possible audience at the lowest price available.