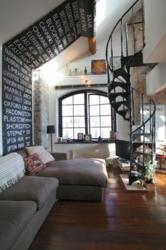 (PRWEB UK) 13 September 2012
This September's London Fashion Week has come at a perfect time, with London recently named the 'fashion capital of the world' for the second year. Those looking for a slice of the fashion action can find front row accommodation with Wimdu.co.uk. With sleek apartments right next to Fashion Week events as well as the top celebrity hotspots, Wimdu.co.uk properties are THE perfect accessory for Fashion Week.
Sleep on the Front Row
The best catwalk shows take place in Somerset House, near the Strand, in the heart of London. This chic Covent Garden apartment is just a 2-minute walk from the catwalk – no need to queue to bag the best seats in town: http://www.wimdu.co.uk/offers/7VMTLFPA
Live like a model
Guest can experience the model high life for a night by staying in one of these chic apartments – with accommodation to suit every style
Style Inspiration - Kenzo: Bold and modern - Complete with hammock, rooftop terrace and enough art to fill a gallery, this colourful canal-side apartment will suit the brightest, boldest fashionistas out there: https://www.wimdu.co.uk/offers/9JC6HR0P
Style Inspiration - APC: Urban cool - The stomping ground for the likes of Keira Knightly, Klaxons rocker James Righton, Alexa Chung and Peaches Geldof, Shoreditch is one of the coolest places on London. Trendsetters will love this oh-so-cool Shoreditch loft,with exposed brickwork and wooden floors. Add London artwork and you have the perfect laidback pad: http://www.wimdu.co.uk/offers/76FXO1L6
Want to do a little more shopping but don't fancy trekking in your brand new Jimmy Choos? This converted warehouse is the perfect place to stay for those wanting to check out Shoreditch's trendy shops and clubs: http://www.wimdu.co.uk/offers/1GU4KPZP
Style Inspiration – Lulu Guinness: Retro Chic - Followers of colourful retro prints will feel right at home in this Notting Hill flat, which features eclectic furniture and bookshelves filled with fashion magazines: http://www.wimdu.co.uk/offers/AY4WKV2V
Designer districts
For fabulous fashionistas looking for after-party fun, Mayfair is THE place to see and be seen. This fashionable flat is close to model hangout Aura, and is available for £177 a night: http://www.wimdu.co.uk/offers/8NIWYS0W
About Wimdu
Wimdu is a social accommodation community that brings together travellers and hosts from around the world to enable consumers worldwide to travel like a local.
Wimdu enables hosts to generate additional income on their spare rooms, while guests can search for a room and a rate that suits them. The site lists a range of over 50,000 properties internationally across over 100 countries with everything from boltholes in Berlin to English castles.
Wimdu was founded in 2011 by serial entrepreneurs Hinrich Dreiling and Arne Bleckwenn who wanted to harness social media to transform the way consumers are travelling worldwide. Wimdu's Managing Director in the UK, Karim Hardane, manages a team of over 30 and lists over 3,000 properties nationwide.