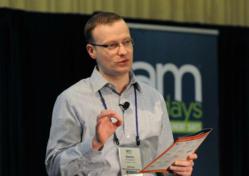 Fort Lauderdale, FL (PRWEB) September 12, 2012
Affiliate program managers in the turbulent sea of digital marketing will be getting some GPS coordinates this fall at Fort Lauderdale's Affiliate Management Days East 2012. From October 9-10, 2012, managers and marketing leaders will meet to discuss how online merchants can successfully navigate the industry's biggest challenges.
Two of the largest are compliance policing and enforcement. Indeed, for some merchants, up to 60% of affiliate-referred orders can be attributed to breaches of affiliate program's terms of service, outright affiliate fraud or even a merchant's own unwitting violation of consumer laws. Speakers such as Thomas Cohn, Hagai Shechter and Wesley Brandi will be showing conference attendees how to avoid such costly mistakes.
But compliance is just one part of the overall picture. In addition to tackling present challenges like hack-based cookie stuffing and rogue affiliates, AM Days will be taking a close look at future opportunities:

How can merchants better adapt to social and mobile commerce (including local search)?
What is the best way to track and reward players in a world of multi-touchpoint attribution?
Where are the new areas of affiliate growth?
With the industry changing rapidly, smart affiliate managers are realizing they need the help of a community to stay on top of trends. AM Days exists to provide a supportive, collaborative forum for these managers, a place where they can learn how to think big and steer wisely.
Register before October 7, 2012 for AM Days in Fort Lauderdale, FL (October 9-10, 2012) and save $200 off the full price.
View the full agenda and see all the in-depth sessions available.
About Affiliate Management Days
Affiliate Management Days (AM Days) is the brainchild of Geno Prussakov, a well-known affiliate marketing expert, author, consultant and program manager. Prussakov founded AM Days to provide a national-level forum for affiliate managers to discuss the real opportunities, issues and threats they face on a daily basis.
Sessions cover the ins and outs of managing a lucrative affiliate program – including analytics, recruiting and motivating affiliates – as well as important industry issues such as affiliate fraud detection and prevention, competitive intelligence and legislative compliance.
About Rising Media
Rising Media is a global events producer excelling in Internet and technology-related conferences and exhibitions. Rising Media-produced events include Data Driven Business Week, eMetrics Marketing Optimization Summit, Conversion Conference, DemandCon, GAUGE, Predictive Analytics World, Text Analytics World, Affiliate Management Days, Building Business Capability, Social Media Economy Days, Web Effectiveness Conference, Search Marketing Expo, SemTech and Social Gaming Summit in the US, Canada, UK, France, Germany, Sweden, Finland and Australia.