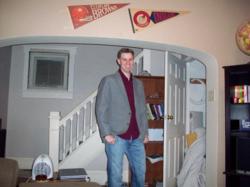 We don't have air conditioning and heating to cut costs, so there's a little joke we like to say; You can feel the savings.
Fairborn, OH (PRWEB) September 13, 2012
Like many college graduates in this economy, Frank O'Neill was struggling to find work. With a bag of clothes and a pocket of change, he moved with his friend to Savannah, Georgia and discovered the appeal of the home furnishings industry.
O'Neill met a man who was selling mattresses, and after four months of working with him, they became partners. He learned the business and decided to cut his living expenses and start his own business in Dayton. His company, Dayton Discount Furniture 587 Sports St. in Fairborn, opened in August 2010. (937) 668-5111
O'Neill's story is not atypical in this economy. Many people have become entrepreneurs as they struggle to make ends meet. What is unique about O'Neill is that he struggles with a learning disability and attention deficit disorder.
Diagnosed in the sixth grade, while attending Incarnation School, O'Neill struggled with reading and writing. His scores were far below average, he said. To address his issues, he attended special classes in middle school. And, while at Centerville High School, he had year-round tutoring.
"There were a few teachers who were optimistic about it, but other teachers were saying I would be lucky to get through high school," O'Neill said. "It was very discouraging to hear that my chances of actually going to college were even slimmer than (they) already were."
But O'Neill persevered and finished high school and graduated from The Ohio State University with a degree in personal finance. While he said he doesn't have the best reading and writing capabilities, he focused on his strength: math.
"I try to bring it to my toolbox," he said. "My toolbox consists of numbers and I can do numbers without reading. My disadvantage is that it takes me longer to comprehend information, so reading reports can take me two to three times longer than the average person."
His business has been successful so far because he has been able to limit overhead costs.
"You're paying for the sales staff and location," he said. "You're paying for that experience. Our experience is different. We're the people that sell mattresses for a fraction of the cost because we figured out a better way to do it."
Some of the cost cutting techniques O'Neill uses are selling overstock merchandise, truckload buys or closeout models. Buyers call the company line and set up an appointment with O'Neill. After an appointment is made, customers visit the store and test out the merchandise they are interested in purchasing. O'Neill said the approach ultimately saves money for both the customer and the company.
"We feel like it's a more professional and efficient environment to do business in, as opposed to going to a store and waiting to see if someone will serve you," he said. "We don't have air conditioning and heating to cut costs, so there's a little joke we like to say; You can feel the savings."
By Richie Phillips
ABOUT:
Dayton Discount Furniture Warehouse is your store for discount, quality, new home furnishings. We only meet customers by appointment everyday at our 6,500 sq. ft. warehouse in SW Dayton, Ohio. Call today to see why we have the BEST MATTRESS AND FURNITURE PRICES in the Miami Valley Area!!