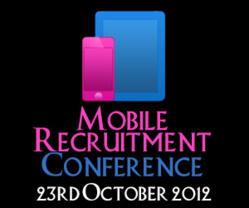 Some Recruiters are now seeing more than 30% of their website traffic arriving via a mobile device.
(PRWEB) September 12, 2012
The speaker programme for the Mobile Recruitment Conference in London on the 23rd October 2012 was confirmed today by Mike Taylor from Web Based Recruitment. The Conference has been designed to help Recruiters, Recruitment Agencies, Recruitment Advertising Agencies and Job Boards understand the impact that Mobile is currently having in recruitment, how it will develop in the future and how they can start to implement mobile strategies to gain a competitive advantage in their own company.
"Over the last 12 months Mobile Recruitment has really started to take off with some Recruiters now seeing more than 30% of their website traffic arriving via a mobile device. This figure is likely to increase again with the release of the latest smartphones, mobile tablets and faster 4G mobile connections" said Mike Taylor, organiser of the conference.
The impressive list of conference speakers includes:
Emma Frazer - Senior Industry Head Careers - Google UK
Eric J Offner II- Managing Director - CB Mobile, CareerBuilder.com
Darren Harris – Head of Digital Strategy - aia worldwide
Jodie Craig – HR Manager - Krispy Kreme UK
Gordon Lokenberg – Recruiter - W3Recruitment
Dan Beynon - Commercial Director - Educate
Jules Watkins – Videopreneur
"We are delighted to have such a varied speaker line-up, especially as each of the speakers has a unique insight into how mobile is being used successfully today" continued Taylor.
The subject areas to be covered at the Conference will include the latest trends in mobile recruitment, case studies and best practice examples:
Planning a Mobile Recruitment Strategy - What you need to do to "Go Mobile"
Successful Mobile Recruiting Case Studies
Latest Mobile Trends and Future Insights
Using QR (Quick Response) Codes and Location Based Services in Recruitment
Using Mobile as an Employee Engagement Tool
Results and trends from the UK's largest Mobile Recruitment & Graduate Recruitment Surveys
Creating Recruitment Related Videos using a Mobile Device
Mobile Recruitment Discussion Panel
"Whether you are recruiting in the private or public sector, mobile recruitment will affect ALL Recruiters. That is why it has become so important to ensure that at a minimum your website is mobile-enabled to avoid losing candidates and future business" concluded Taylor.
Further Information
Full details of the 2012 Mobile Recruitment Conference can be found at: http://www.mobilerecruitmentconference.com