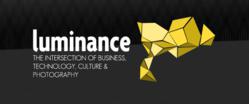 Luminance 2012 will bring together 26 major thought leaders to discuss what's next for photography.
New York, New York (PRWEB) September 11, 2012
What:
PhotoShelter, the leader in photography portfolio websites, sales, marketing and archiving tools for photographers, kicks off Luminance 2012 this week, September 12- 13 at the BMCC Tribeca Performing Arts Center in New York City. The two-day conference will bring together 26 major thought leaders to discuss what's next for photography.
A first-of-its-kind event, Luminance strives to spark new ideas and networks that will push photography, as an industry, to the next level. Over 400 photographers, technologists, designers and creatives are expected to attend.
PhotoShelter welcomes walk-in registrations at the door on Wednesday, September 12, 2012.
Who:
Luminance speakers include 26 leaders from NASA, Facebook, Google, Lytro, Behance, Blurb, 20x200, plus award winning photographers like David Burnett, Peter Yang and Barbara Davidson. The full list of speakers includes:
Jen Bekman, CEO & Founder, 20x200
Scott Belsky, CEO & Founder, Behance
Leila Boujnane, CEO, TinEye
Lucas Buick, CEO & Founder, Hipstamatic
David Burnett, Photojournalist
Chris Chabot, Manager of Developer Relations, Google+, Google
Eric Cheng, Director of Photography, Lytro
Kevin Connor, CEO & Co-Founder, Fourandsix
Barbara Davidson, 2011 Pulitzer Prize Winner, Feature Photography
José de Cabo, Co-Founder, Olapic
Amy Dresser, Retoucher and Illustrator
Sara Friedlander, Vice President, Post-War and Contemporary Art, Christie's
Eileen Gittins, CEO & Founder, Blurb
Taylor Jones, Founder & Author/Blogger, Dear Photograph
Gary Morgan, CEO and Co-Founder, Splash News
Avi Muchnick, CEO, Aviary
Michael Muller, Commercial Photographer and Wildlife Specialist
Craig Peters, Senior Vice President of Business Development, Getty Images
Donald Pettit, Ph.D., Astronaut, NASA
Evan Ratliff, Co-Founder & Editor, Atavist
Rick Robinson, Division Vice President of Marketing, Vision Research
Tyler Shields, Photographer
Jon Slimak, Founder & CEO, Piictu
Alan Taylor, Senior Editor, The Atlantic
Cory West, Engineering Manager, Facebook Photos, Facebook
Peter Yang, Commercial & Editorial Photographer
Prior to the two-day event, Luminance 2012 opened with a limited-seating photography workshop with renowned photographers Joe McNally, Zack Arias, Brian Smith, and Robert Seale, plus leaders from Shutterstock, ImageBrief, Wonderful Machine, and PhotoShelter. The workshop took place at Root Drive-In Studios in New York City from 12 pm to 5:30 EDT on September 11, 2012.
When and Where:
Luminance happens this week, September 12 - 13, 2012 at:
The BMCC Tribeca Performing Arts Center
199 Chambers St.
New York, NY 10007
About PhotoShelter:
PhotoShelter is the leader in portfolio websites, photo sales, marketing and archiving tools for photographers. Over 74,000 photographers worldwide use PhotoShelter to power their success online, with customizable website templates, searchable photo galleries, e-commerce capabilities, and bulletproof image storage. Photographers can create a professional PhotoShelter website in under five minutes, or customize the design of PhotoShelter to power their existing photography website.
A complete solution designed to make the business of photography easier to manage - PhotoShelter offers image security, online image delivery, and advanced marketing tools like SEO and social media sharing capabilities so photographers can make their images work harder for them. To join our community or try PhotoShelter, visit http://www.photoshelter.com.
All trademarks are the property of their respective owners.
###