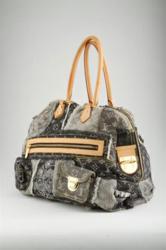 Designers like Coach and Gucci, once considered elite fashion among midrange shoppers, have become much more affordable in recent years.
(PRWEB) September 13, 2012
Everyday, Rodeo Drive Resale (http://www.shopRDR.com), premier reseller of 100% authentic guaranteed clothing and accessories including Louis Vuitton bags, Chanel purses, and Hermès scarves, offers tips, news and advice to its global network of online customers.
As the holiday season approaches, fashion lovers unfamiliar with the high-end market of clothing and accessories may be interested in the "calling cards" of a few of the world's most beloved brands:
1) CHRISTIAN LOUBOUTIN: Christian Louboutin has developed an international following, as the red-lacquered finish at the bottom of each pump has set Louboutin heels apart for the competition for many years. The red bottoms have become so closely associated with Louboutin that on September 5, a U.S. appeals court ruled the shoes deserved trademark protection. Now, fashion houses such as Yves Saint Laurent, must recognize the red sole marking as a brand in itself, as fashion fans have grown to associate a "pop" of red at the bottom of a high-heel with the Louboutin label.
2) THE BURBERRY PLAID: Considered by many as the flagship label of signature trademarks, British luxury fashion house Burberry is among the world's most copied brands, as its iconic tartan pattern has been imitated, counterfeited and replicated to no end. Best known for its trench coat, Burberry makes everything from clothing to eyewear and fragrances, and ranks among the 100 most valuable brands in the world, according to Business Weekly.
3) LOUIS VUITTON MONOGRAMS: Every luxury bag lover has their preference, but most agree: When it comes to style and status, few brands can match the reputation of Louis Vuitton. Its vintage bags, wallets and accessories have become the standard for sophistication, and the LV monogram has been adored by fashionistas and imitated by countless designers. Because of their uncompromising selling strategy (LV has not had a sale in 154 years), midrange shoppers looking for a deal flock to sites such as ShopRDR.com, which offers shoppers the opportunity to buy or sell 100% authentic designer handbags at a fraction of the cost.
4) CHANEL'S LITTLE BLACK DRESS: Iconic French designer Gabrielle "Coco" Chanel revolutionized feminine style with her unique creations and is largely credited with popularizing "the little black dress." Now a must-have, the little black dress shows no signs of slowing down and is adored by celebrities and working women alike. Earlier this summer, Chanel was on hand at the 2012 Summer Games, as the fashion powerhouse opened a beauty outlet in Covent Garden's Market Building. The pop-up store, which offers the brand's complete fragrance and beauty lineup, is scheduled to complete its run at the end of 2012.
5) HERMES SCARVES: Established in 1837, Hermès International S.A. originated as a horse saddle and harness shop. Now a top designer of leather, lifestyle accessories, perfumery, luxury goods, and ready-to-wear, Hermès has become a favorite among lovers of luxury labels for their scarves, first introduced in 1937. Hermès 100% silk scarves come in an array of colors and designs, and the detail that goes into each one is second to none.
Brand new or pre-owned, shopRDR.com offers luxury lovers the opportunity to save big on the aforementioned brands and many more top designer labels. As the year inches closer toward the holiday season, Raya says searches of luxury brands will likely increase, with many top designers offering more reasonable prices to buyers hoping to build their luxury collection.
"Expect to see the rise of the brand savvy shopper this holiday season, particularly when it comes to high-end fashion. Designers like Coach and Gucci, once considered elite fashion among midrange shoppers, have become much more affordable in recent years," shopRDR.com co-founder Raya Jaffer noted earlier this year.
Rodeo Drive Resale (shopRDR.com) has built a reputation of providing amazing deals on handbags, clothing and accessories from the top designers of upscale fashion. The company offers a 100% guarantee of authenticity on each item sold, and works daily with a network of clients looking to buy, sell, or for consignment of their luxury goods. ShopRDR.com loves high-end fashion, and believes finding a high quality, classic piece should be an easy, enjoyable -- and most importantly -- hassle-free shopping experience. For the finest in Louis Vuitton, Chanel, Prada, Gucci, St. John Knits, Christian Louboutin, Tiffany & Co. and more, visit RDR online at http://www.shopRDR.com or call 1-888-697-3725. Also find shopRDR.com's blog at http://blog.shopRDR.com.
Also find shopRDR at:
Blog: blog.shopRDR.com
Facebook: facebook.com/shopRDR
Twitter: twitter.com/shopRDR
YouTube: youtube.com/ shopRDR
Pinterest: pinterest.com/shopRDR
Rodeo Drive Resale (shopRDR.com)
1-888-697-3725
service(at)shopRDR(dot)com