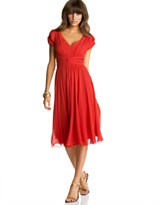 (PRWEB) September 11, 2012
New York wholesale dresses have been reviewed by a free online guide published by Closeout Explosion Inc, a New York wholesale business that specializes in the wholesale and export of brand name overstock clothing, shoes, and handbags. The online report covers important topics for retailers and wholesalers looking for New York wholesale dresses. While there are many dress showrooms and dress wholesalers in the New York Fashion district and in the surrounding area, it is crucial for a wholesale dress buyer to be well informed before starting a shopping trip.
"I have published articles pertaining to the buying and selling of wholesale dresses in New York with my actual experience, and based on experiences shared with me by my wholesale customers and dress suppliers," said Donny Lowy, who exports wholesale dresses from his New York clothing warehouse to dress boutiques in Nigeria, dress shops in Botswana, clothing stores in Trinidad and Tobago, and to many other resellers both in the United States and abroad.
Important wholesale dress buying and selling tips are covered such as:
How To Locate Wholesale Dresses In New York
Discovering The Right Wholesale Price For Dresses
How To Generate A Stampede Of Publicity For Your Dress Shop
Important Tips You Need To Know To Sell More Wholesale Dresses
How The Real Money Is Made In The Wholesale Prom Dress Business
Do You Know What Amazon and eBay Can Do For Your Dress Business?
What You Need To Do Right Away To Start Selling High End Designer Dresses
How To Compete With Established Online Fashion Retailers
Tips For Selling Dresses In Slow Periods
How To Introduce American Brands To The African Market
Strategies For Using Sample Sales To Make Money In The Dress Business
Dress buyers and sellers can post comments, ask questions, and share dress related feedback at the end of the articles, which not only can help them stay informed on the latest dress fashions, but also make great connections in the NY wholesale dress business.
"While the Internet has bridged the gap between dress retailers and dress suppliers in New York, an ambitious retailer can maximize her selection of wholesale merchandise by learning from tips, strategies, ideas, and feedback from other experienced New York dress vendors," added Donny Lowy, who also publishes online guides covering wholesale suits and wholesale shoes.
The New York wholesale apparel business offers many closeout buying opportunities for those who can expertly navigate the New York Garment district. The primary challenge is not locating New York wholesale stores, but it is obtaining the best deals from the New York fashion wholesalers which a buyer will visit. Whether a retailer is looking for cheap dresses, African dresses, high end fashion designer wedding dresses, prom dresses, bridesmaid dresses, evening dresses, or baby dresses, there are New York dress supplies that stock them. Closeout Explosion reviews what a buyer will need to know in the process of selecting, and then selling, a NY clothing vendor's wholesale inventory.