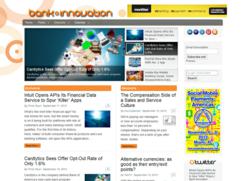 New York, NY (PRWEB) September 12, 2012
Bank Innovation, the blog and information resource for bankers, has relaunched with a new site design and focus.
Emphasizing social media integration and designed to improve the customer experience, the all new Bank Innovation offers readers expanded content and features. New sections of the site include:

All this, in addition to our exclusive content, creates a one-stop shop for bank executives wanting to stay ahead.
Equally important, Bank Innovation's exclusive content will take on a fresh new focus highlighting innovation in banking customer acquisition and retention.
"Customer acquisition and retention is a top priority for any business and this is certainly the case in the competitive world of financial services," said JJ Hornblass, Editor & Publisher, Bank Innovation. "Bank Innovation tracks bank customer acquisition and retention. We will tackle these issues through the lens of innovation and how companies can utilize new technology and trends to increase their performance."
In addition Bank Innovation has added a new editor, Philip Ryan. Philip joins us from Tricycle: The Buddhist Review, a well-regarded quarterly journal where he was Executive Editor. We are excited to have Phil join the team and captain our new editorial efforts.
With our new team in place, a sharpened focus, new site features and social media integration, Bank Innovation has become a site that should be bookmarked by anyone that wants to explore the future of customer experience in banking. Visit the all new Bank Innovation at http://www.BankInnovation.net.
ABOUT BANK INNOVATION
Bank Innovation is the forum for bankers looking for creative strategies for customer acquisition and retention. Bank Innovation generates over 22,500 monthly pageviews, has more then 6,375 followers, and 6,200 e-mail readers. Follow us on Twitter @BankInnovation and join our group on LinkedIn.
JJ Hornblass, a seasoned financial services reporter and social media enthusiast, is available to provide expert commentary to the media on Bank Innovation and the role of innovation and technology in financial services. Mr. Hornblass can be reached at Hornblass(at)royalmedia(dot)com.